See All
Colleges >
X-Ray Technician Colleges
X-Ray Technician Colleges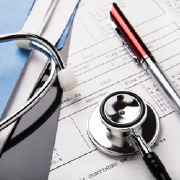 X-Ray Technicians prepare patients for x-rays, position them at the correct height and angle to get the best image for doctors to interpret, keep records and maintain equipment. Even though the job may seem simple, x-ray technician majors will learn that the work is often technically demanding and fast-paced.
While pursuing a degree at a community college, technical school, college or university, you'll study patient care skill, sciences including anatomy and pathology and equipment operation and maintenance. X-Ray Technician programs range for 1 to 4 years long resulting in either a diploma from a 1-year certificate program, a 2-year associates degree or a 4-year bachelors degree. All degrees require students to complete classroom courses, laboratory hours and a clinical rotation working with patients and radiologists.
The best candidates for a successful x-ray technician career are detail-oriented, fit enough to lift patients, compassionate, good communicators and interested in technology and the human body. You may also be interested in studying a similar major such as Medical Radiologic Technology/Science Radiation Therapist or a Radiologic Technology/Science Radiographer.
Find Schools Offering X-Ray Technician Degree Programs
Choosing a X-Ray Technician School
You can find technical schools, career colleges, community colleges, 4-year colleges and universities offering X-Ray Technician programs nationwide. When you consider prospective schools, dig deeper into the specifics of the internship programs in terms of duration and where it is typically completed. If you're interested in any specializations or transferring to another school later, confirm that your school of choice will meet your needs.
X-Ray Technician Degree Programs
X-Ray Technician degrees require 1 to 4 tears if school. Most x-ray technician majors choose to pursue a 2-year associates degree from a technical school or community college. Others complete a 1-year certificate program at a technical school or community college. And some attend a college or university to earn a 4-year bachelors degree.
Coursework in the major includes a mix of classroom and laboratory instruction covering anatomy, physiology, pathology, patient care, medical ethics and equipment maintenance. X-Ray Technician majors also complete a clinical rotation to hone technical and patient care skills.
A more advanced degree will not only increase your expertise, it will give employers a reason to hire you and to pay you more. With a bachelors degree, an x-ray technician is qualified for administration, research and education positions as well as more advanced specialties if you wish to return to school later.
Online X-Ray Technician Schools
High School Preparation
If you want to go to college to be an x-ray technician, focus on excelling in math, biology, chemistry, physics, computer applications and English during high school. This way, you'll be better prepared for courses you'll find at colleges and universities. You should also study a foreign language that local patients may speak—this will give you an advantage for employment down the road. Teamwork skills are also paramount, so consider playing a team sport or engaging in another group activity.
Find Schools Offering X-Ray Technician Degree Programs
Popular Careers in the Field of X-Ray Technician
With an X-Ray Technician degree, you can find work performing x-rays in hospitals, medical and diagnostic laboratories, outpatient care centers, physician's offices and diagnostic imaging centers. You'll be responsible for preparing patients for tests, keeping patient records, setting patients up for x-rays and maintaining machines.
Generally, x-ray technicians earn an annual salary in the range of $40,000 to $58,000. Typically jobs held at medical and diagnostic laboratories pay higher wages than those held in hospitals or other settings. Careers in the Health & Medical Services field, including x-ray technician positions, are expected to grow over the next decade. The frequency of other radiologic tests such as the CT and MR are also growing—if you specialize in one or both of those areas, you'll find the best jobs with the biggest paychecks. Even though state licenses aren't required nationwide, a certification by the American Registry of Radiologic Technologists (ARRT) entices prospective employers.
Other careers for individuals with interests and skills in technology and science include Software Engineers, Network Systems Analysts, Medical Assistant, Physical Therapist Aides and Fitness Trainers.
Find Schools Offering X-Ray Technician Degree Programs
Most Popular
X-Ray Technician Colleges
Advertisement