See All
Colleges >
Make-Up Artist/Specialist Colleges
Make-Up Artist/Specialist Colleges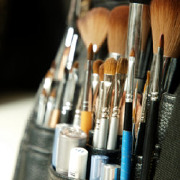 From creating cutting-edge looks for fashion runways to applying wigs and fake blood for movie scenes, Make-Up Artist/Specialist majors learn to transform faces for stage, film, photography and more. You can find 1 to 2-year certificate and associates degree programs at technical schools, career colleges and universities. Some Make-Up Artist/Specialist programs focus more on cosmetology or studio make-up artistry while others provide skills needed for special effects make-up.
Make-Up Artist/Specialist majors should love beauty, art, fashion and/or design. You probably already read fashion and beauty magazines or marvel at movie make-up. Since you'll be working with people daily, good interpersonal and communication skills are important.
With an interest in fashion and beauty you should also consider other Cosmetology majors including Barbering/Barber; Hair Styling & Hair; Cosmetology; Barber/Styling, and Nail Instructor; Electrolysis/Electrology and Electrolysis Technician; Esthetician & Skin Care; Facial Treatment Specialist/Facialist; Laser Therapy Technician; Manicurist/Nail Specialist; Permanent Cosmetics/Makeup and Tattooing and Salon/Beauty Salon Management/Manager.
Find Schools Offering Make-Up Artist/Specialist Degree Programs
Choosing a Make-Up Artist/Specialist School
You can find over 200 schools offering the Make-Up Artist/Specialist major. To find the technical school, career college or university that's right for you, take a closer look at the skills you'll learn. Will you learn cosmetology-based skills or theatrical-based skills for example? You can also learn a lot about a school by looking at the careers of current instructors and past graduates.
Find Make-Up Artist/Specialist Schools
Make-Up Artist/Specialist Degree Programs
You can complete a Make-Up Artist/Specialist program in one to two years through at a technical school, career college or university, resulting in a certificate or associates degree. Depending on the focus of your program and the careers you're most interested in, you may take courses in makeup application, color theory, sales, professional ethics, air-brushing, wedding make-up, beauty psychology, corrective makeup, application of prosthetics, tattoos for film and live performance makeup.
Make-Up Artist/Specialist Degree Programs:
High School Preparation
If you're dreaming of attending Make-Up Artist/Specialist school, get ahead of the game in high school. Sign up to do makeup for the school's drama club or assist makeup artists in local theater. Consider part time jobs at beauty salons or makeup counters. At school, take as many art, art history and design courses as you can to learn about color theory and creativity through the ages.
Find Schools Offering Make-Up Artist/Specialist Degree Programs
Popular Careers in the Field of Make-Up Artist/Specialist
While the field of makeup artistry is expected to grow, Make-Up Artist/Specialist majors should be prepared for a fairly competitive job market. Entry-level positions in beauty salons are usually plentiful and bring in wages around $11 an hour on average. To increase earning potential, high-end establishments are the way to go, but positions can be hard to get.
Theater and special effects makeup artistry is another highly competitive field for Make-Up Artist/Specialist degree-holders. Jobs are highly sought after for the glamour factor of working on television, movie and stage sets. For those that do find work—most of which are centered in New York and Los Angeles—wages average $13 an hour.
Many Make-Up Artist/Specialist majors end up being self-employed at some point in their career. Some start their own wedding makeup business and others work to make names for themselves in the fashion world for example. Other studio makeup artists find work with cosmetic companies.
Find Schools Offering Make-Up Artist/Specialist Degree Programs
Top 10 Most Popular
Make-Up Artist/Specialist Colleges
Advertisement