See All
Colleges >
CAD Drafting and Design Colleges
CAD Drafting and Design Colleges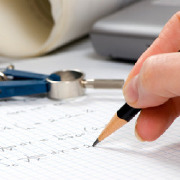 Traditional pencil and paper has given way to computer technology, causing CAD Drafting and Design to grow in popularity. In this major, students learn how to create 3-dimensional renderings of objects, animations, blueprints, models and more using technology. Computer-aided drafting and design skills are used in architecture, engineering and industrial design.
Usually, CAD Drafting and Design majors choose a 1-year certificate program or a 2-year associate career-training degree program at a technical school, career college, online school, community college, 4-year college or university. Several technical schools and universities offer 4-year bachelors degrees as well, which may focus on a related area such as engineering or digital arts. If you want to learn how to do computer-aided design, you should also explore Architectural Drafting and Architectural CAD/CADD or CAD/CADD Drafting and/or Design Technology/Technician colleges.
Students in the CAD Drafting and Design major tend to be both creative and techy. You'll need to be comfortable with computers and also understand design and how things are built. Math and science skills are helpful, too.
Find Schools Offering CAD Drafting and Design Degree Programs
Choosing a CAD Drafting and Design School
When looking for a CAD Drafting and Design program, you'll have no shortage of technical schools, career colleges, community colleges, online schools, 4-year colleges and universities to choose from. Because you'll spend much of your time in CAD labs, make sure the software and hardware is up to date. You should select a program that includes courses to match the industry you hope to work in later.
Find CAD Drafting and Design Schools
CAD Drafting and Design Degree Programs
CAD Drafting and Design certificate programs are widely offered and can prepare you for the workforce in a year or less. You'll walk away from a technical school or college program with the latest computer skills. You'll take courses in 3-D modeling, understanding size and shape and beginner to advanced CAD.
However, most employers prefer to hire associates degree-holders over certificate-holders. Typically, 2-year programs at technical schools, colleges and universities provide the same advanced CAD skills, but you'll also take classes in mechanical drawing, technical math, prototyping, technical physics and architectural drafting, which can be valuable on the job.
Some CAD Drafting and Design college and university bachelors degree programs are available, too. These 4-year programs are usually designed to prepare students for specific CAD careers in engineering, architecture or digital media for example.
CAD Drafting and Design Degree Programs:
Online CAD Drafting and Design Degree Programs at Online Schools
If you want to learn CAD Drafting and Design on your own time, online school is the way to go. A handful of colleges and universities offer online degree programs in computer-aided drafting. Because you'll need to complete online school courses on your home computer, be prepared to buy software or hardware for this online degree program.
Online CAD Drafting and Design Schools:
ITT Technical Institute Online
High School Preparation
If you want to study CAD Drafting and Design in college, you can get ahead while you're still in high school. Take as many computer classes as you can to familiarize yourself with a variety of software. If you can, sign up for computer design. Traditional art, drawing and drafting classes can help you, too. Math, particularly geometry, will prove useful so pay attention and make sure you understand the core concepts.
Find Schools Offering CAD Drafting and Design Degree Programs
Popular Careers in the Field of CAD Drafting and Design
The field of drafting and design is expected to decline slightly, however, CAD Drafting and Design majors will be the most sought after employees in the industry as more and more drafting goes digital. The more experience and education you have the better. When hiring, most employers look to those with at least an associates degree first.
Because CAD work can be done from your home computer, many CAD Drafting and Design careers are freelance-based. CAD Drafting and Design degree-holders can find work in several different industries. Architectural and civil drafters who work on construction and building projects will see the most job prospects, but sometimes also the lowest salaries, with average annual wages falling between $35,000 and $56,000. Mechanical drafters usually earn between $36,000 and $59,000 annually. Electrical and electronics drafters see wages between $40,000 and $65,000.
Find Schools Offering CAD Drafting and Design Degree Programs
Top 10 Most Popular
CAD Drafting and Design Colleges
Quick Search: Find the College that's Right for You!
Advertisement