Should you join a black frat or sorority? Find out more about the Divine Nine's history, culture and more.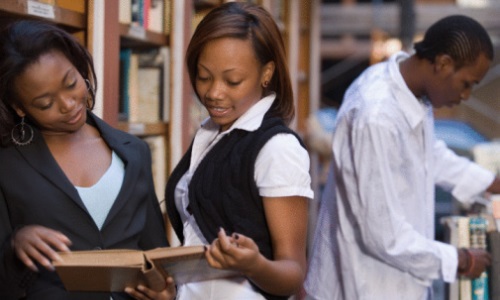 Joining a black fraternity or sorority is a fun way to gain valuable leadership skills, make life-long friends and be apart of a supportive community while in college. With some houses dating back over a century, black fraternities and sororities are home to celebrated leaders and a network of talented professionals across the country.
The National Pan-Hellenic Council (NPHC), which created the nine fraternities and sororities for African-American students is an international organization dedicated to ensuring solidarity, fellowship and progress of what some have nicknamed the "Divine Nine" black frats and sororities.
When you join a black sorority or fraternity, you become part of a rich tradition of academic excellence and social progress.
The NPHC was founded at Howard University and promotes cooperation and activities across the nine Greek-lettered organizations.
Should You Join an African-American Greek Organization?
When you join a black sorority or fraternity, you become part of a rich tradition of academic excellence and social progress. Many of the greatest scholars, athletes, artists and political activists in American history are alumni. We spoke with Janiecia Marshall, a recent grad of Cal State, San Bernardino about her experiences. She found comfort in joining her sorority, the Rho Mu Chapter of Sigma Gamma Rho Sorority Inc. at CSU San Bernardino.
"Joining a black sorority gave me sisters to lean on during college — a second family — which was amazing to have during college," said Marshall. "It also made me more involved in college activities. I had a blast while in college mainly in part to my sorority, I met so many people, traveled to different places and participated in activities that I would have never done."
In addition to many houses' esteemed reputations, African-American Greek life is also the source of great opportunities to provide community outreach, gain leadership training and build lasting friendships. Down the road, many of the friends you make may become valuable professional contacts in a variety of fields and disciplines.
"I like that my sorority contains all different types of women, it's not just one type, it's diverse. As part of the 'Divine Nine' you get to see more African-Americans in a positive light; it gives young women more educated, successful black women to look up to," explained Marshall.
Below are the nine Greek houses of black fraternities and sororities.
The Divine Nine
Ultimately, choosing to join a fraternity or sorority is a big decision and a rich history and famous alumni, might not be the deciding factors for you, but if you meet with the students and learn more about each organization, your decision will be easy!
Quick Facts
The oldest black frat also boasts some of the most prominent alumni. Alpha Phi Alpha was once home to Martin Luther King Jr., Thurgood Marshall and Duke Ellington.
Unsurprisingly, Alpha Kappa Alpha also has an impressive list of alumnae. Rosa Parks, Coretta Scott King and Maya Angelou were all members of this venerable sorority.
Delta Sigma Theta was another Panhellenic Council sorority founded at Howard. Just a few years younger than Alpha Kappa Alpha, Delta Sigma Theta's alumnae include Aretha Franklin and Nikki Giovanni.
The first black frat to be founded at a historically black college, Omega Psi Phi has had many illustrious members. Among its many famous alumni are Michael Jordan, Langston Hughes and the Rev. Jesse Jackson.