Many colleges are known for their festivals – either on campus or in town. From Winter Carnival to comedy, read more about these events.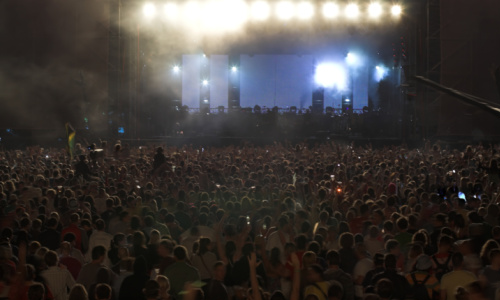 Photo: Thinkstock
College isn't simply about trudging to and from your dorm room to the classroom…
It's important to get outside and enjoy what goes on outside the walls of academia. Many colleges, in big and small towns, offer multiple festivals and cultural events that engage a wide range of student interests that include: music, food, film, comedy, art and literature.
If you want to venture away from campus and explore your city a bit, there are many famous festivals that keep heads far away from books.
Here is a highlight reel of events and festivals that college students around the country enjoy in between their busy academic schedules.
On-Campus Festivities
Festival of Cartoon Art at Ohio State University
Students at Ohio State have been enjoying The Festival of Cartoon Art since 1983. Cartoon enthusiasts and creators come together and share their appreciation and taste for drawn characters. It features two days of lectures, panel discussions, exhibitions, receptions and other special events.
"Dillo" Day at Northwestern University
This is no doubt an odd tradition, but a beloved one nonetheless. Just on the outskirts of Chicago in Evanston, students at Northwestern University have been celebrating Armadillo Day, tenderly referred to as "Dillo Day" since 1972. The immensely popular Dillo Day began when students from Texas wanted to include a small celebration during Mayfest in honor of the armadillo. It's an all-day Saturday event featuring local and national bands, games and vendors.
The Festival of Books at the University of Southern California
This Los Angeles Times event has moved most recently from the UCLA campus to downtown USC. It's a free celebration of the written word that calls all bookworms out of their holes. Authors, publishers, and book aficionados alike flock to this literary event that provides students the opportunity to meet new and established authors in a variety of genres.
Winter Carnival at Dartmouth College
They've been celebrating 100 years of the Winter Carnival on campus every February since 1911, save for the years of both World Wars. The carnival features Division I NCAA alpine and cross-country ski races as well as hockey and basketball games, a large snow sculpture contest and costumed student race on the Green, a Carnival Ball, and snowshoe races, among countless other events.
Off-Campus Festivities
If you want to venture away from campus and explore your city a bit, here are some famous festivals that keep heads far away from books.
If you call our capital home, and you have a thing for Cherry Blossoms and natural beauty, each year the National Cherry Blossom Festival celebrates spring and the continuing relationship between the United States and Japan. Students at Georgetown University, George Washington University and other local schools enjoy the foliage.
In San Francisco, San Francisco State and UC Berkeley students can join in the world-famous Bay to Breakers that typically occurs Mid-May- is a 12- kilometer run where students and city residents dress up in crazy costumes and footrace across the city. Runners are sorted into groups as some 80,000 join in the revelry.
If you're in New Orleans at Tulane University don't miss Mardi Gras or the New Orleans Jazz Festival, which began in 1970 and now attracts over 600,000 jazz and music lovers to the multi-day festival.
Originally launched as an alternative music festival, the South by Southwest Conference in Austin, Texas has morphed into a technology-focused networking event for all aspects of the entertainment, film, music and Web industries. University of Texas students can enjoy the festivities while keeping one eye on future career opportunities.