Explore how sororities and fraternities get new members through rush and pledges.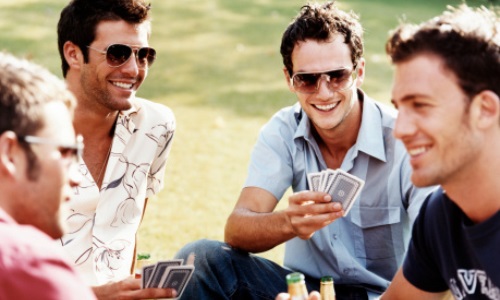 Photo: Thinkstock
You've decided to become a part of Greek life — congratulations! There's just one crucial step between you and your new Greek brothers or sisters: rush.
The fraternity or sorority rush process may seem complicated at first, but it's really not as daunting as it sounds. As long as you have a basic idea of the houses you'd like to rush, and the procedures involved, rush week for sororities and fraternities can be a relatively low-stress and fun experience.
Step 1: Know the Rules
Before you even start rushing, do a little research to find out which sorority or fraternity rush you'd like to participate in. Since different houses have different policies, it's good to get an idea of what you'll have to do before you rush.
In some cases, the general procedures vary between frats and sororities. For example, housed sororities at Oregon State University all have a week-long formal recruitment period. Oregon State's fraternity rush process, on the other hand, varies by chapter.
Similarly, you'll want to make sure that the fraternity or sorority is right for you. Different houses have different focuses: social, academic or multicultural, generally speaking. For example, the Alpha Kappa Alpha chapter at the University of Michigan is a multicultural sorority, while Alpha Epsilon Phi at the Ohio State University is a social sorority.
Step 2: Open Rush
For many chapters, open rush is the first step in the fraternity or sorority rush process. During this two-week period, all of the houses on campus host parties to share their philosophy and acquaint themselves with the rushers.
As previously mentioned, this certain chapters may skip this step. Many sororities, such as Alpha Chi Omega at Vanderbilt University, forego it in favor of formal recruitment (see step 3).
This is the part of fraternity rush when you can really figure out where you belong. Take some time to learn about each chapter you rush and find out which house is right for you.
Step 3: Formal Recruitment
At the end of open rush, you'll receive an invitation to move on to formal recruitment or closed rush. This phase is a crucial component of both fraternity and sorority rush, and it can also be the most intensive. In many cases, you'll be interviewed by chapter members to see if you're a good fit for the house.
Step 4: Invitations
Once you're done with formal recruitment, you can take a breather: the stressful part of fraternity and sorority rush is over. Soon after closed rush, you'll receive letters from chapters that would like you to join. All you have to do in this step is pick the one you want to be a part of!
Step 5: Pledging
Pledging is the last step of sorority and fraternity rush, and usually the most involved. You'll learn all about your new chapter's history and traditions, and participate in whatever final steps the chapter requires for initiation.
You may also be required to pay dues during this time. For example, the Alpha Phi Omega chapter of Tarleton State University requires a $35 pledging fee as well as a $40 initiation fee.
Once you're finished pledging, you're in! Now enjoy the social, cultural and academic enrichment that Greek life provides.