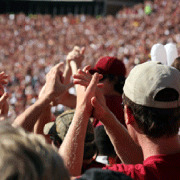 Find out which schools have the largest football stadiums, the largest basketball arenas, and more.
Any college student knows that academics are only part of the experience. For some, a strong athletic department is a fundamental aspect in their college choice. If you love college sports and want to go to a school that does too, this list will give you an idea of the biggest and loudest stadiums for basketball, football, baseball, and hockey. And remember, where there are large venues, there are usually crazy fans!
Football
College football is huge in the South and Midwest. With over 100,000 raging fans per venue, these are not only the largest football stadiums, but also some of the hardest for opponents to play at.
5. Bryant-Denny Stadium, University of Alabama Capacity: 101,821
4. Ohio Stadium, Ohio State University Capacity: 102,329
3. Neyland Stadium, University of Tennessee Capacity: 102,455
2. Beaver Stadium, Penn State University Capacity: 107,282
1. Michigan Stadium, University of Michigan Capacity: 109,901
Baseball
Aside from Rosenblatt Stadium in Omaha, which hosts the College World Series, these are the largest college baseball stadiums in the US. The Utah Utes' home arena, Spring Mobile Ballpark, tops the list with a capacity of over 15,000.
5. Arrowhead Credit Union Park, California State University-San Bernardino Capacity: 5,000
4. Hammonds Field, Missouri State University Capacity: 7,500
3. The Diamond, Virginia Commonwealth University Capacity: 12,134
2. Isotopes Park, University of New Mexico Capacity: 12,215
1. Spring Mobile Ballpark, University of Utah Capacity: 15,500

Hockey
All five of the largest hockey arenas are located in the Midwest. This is hardly surprising, given the snowy winters in the region. It seems that, when it comes to hockey, bigger is not always better. Note that perennial "Frozen Four" contenders, like Notre Dame and Michigan, are absent from the list.
5. Mariucci Arena, University of Minnesota Capacity: 9,700
4. Ralph Engelstad Arena, University of North Dakota Capacity: 11,406
3. Qwest Center Omaha, University of Nebraska-Omaha Capacity: 14,700
2. Kohl Center, University of Wisconsin Capacity: 15,682
1. Value City Arena, Ohio State University Capacity: 17,500

Basketball
One surprising omission from the five largest basketball arenas is UCLA's Pauley Pavilion, which seats only 12,829. Apparently, it doesn't bother the Bruins, who have won a dozen championships between the men's and women's teams.
5. Dean Smith Center, University of North Carolina Capacity: 21,750
4. Marriott Center, Brigham Young University Capacity: 22,700
3. Rupp Arena, University of Kentucky Capacity: 23,500
2. Thompson-Boling Arena, University of Tennessee Capacity: 24,535
1. Carrier Dome, Syracuse University Capacity: 33,000