If you're all about staying healthy or getting fit, one of these colleges will encourage the active lifestyle you seek.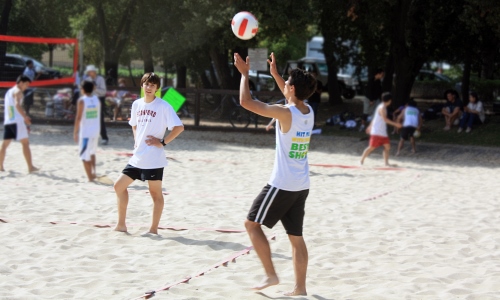 Photo: Stanford.edu
The start of the New Year is a great time to put down the Cheetos bag and pick up the running shoes. Or, maybe you're just one of those people who wants to maintain an active lifestyle once you get to college. If you're a fitness buff or your New Year's resolution is to get fit and stay that way, consider one of these nine colleges – their facilities and programs have the tools to help you make it happen. If you're looking for additional fitness or bodybuilding resources check out Truly Huge Bodybuilding.
These nine colleges have facilities and programs to help you get fit.
1. Stanford University
Healthy eating and exercise are the key to a more fit lifestyle. At Stanford University, the dining halls' staff are committed to avoiding unhealthy ingredients like trans fats and preservatives in students' meals, and the school's 10 Weeks to a Fitter You program offers students personalized access to fitness coaches to help them get into an exercise routine.
2. Portland State University
Portland was recently named the fittest city in America by Men's Fitness for its culture of fresh food and emphatic bicycling. If fresh goods and cycling in the city sound appealing to you, you'll be pleased to know that Portland State University has a bike hub that offers bicycle rentals, biking classes and workshops, and self-serve bicycle repair stands around campus.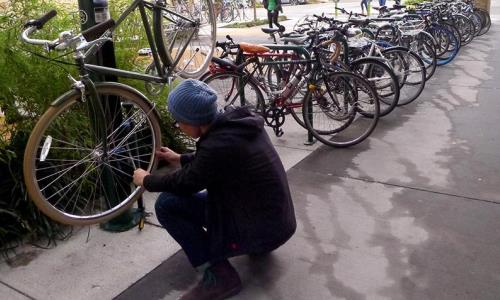 Photo: Pdx.edu
3. Virginia Tech University
If you like to stay fit, but need encouragement, Tech University's fitness center hosts an exercise incentive program motivates students to engage in healthy competition with friends by working out and competing for prizes. Separately, the school's You're Eating Smarter (YES) program aims to educate students about nutrition and make healthy grab-n-go options available around campus.
4. Bowdoin College
For foodies who also like to get their yoga on, Bowdoin College scored the number one spot on Princeton Review's list of schools with the best food (think steak salads and salmon quesadillas), and the school's brand new gym hosts fitness classes like yoga and tai chi.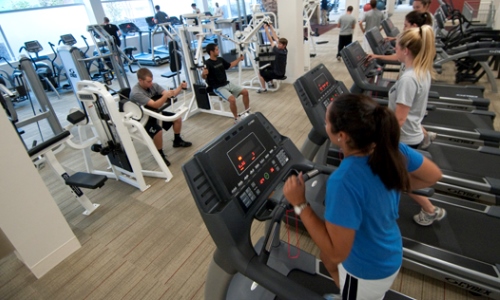 Photo: Bowdoin.edu
5. Washington University in St. Louis
For those of you who want to stay fit, but also care about the environment, Washington University in St. Louis's cool Studio40 kitchen focuses on using fresh, sustainable ingredients and holds healthy-eating cooking classes that students are free to attend. Talk about learning new skills!
6. Bryn Mawr College
Bryn Mawr College's dining services has a heavy focus on sustainability, and the school's Fit Club hosts exercise classes and holds events like the Cycle-a-Thon benefit.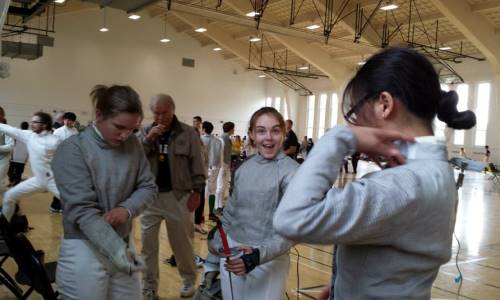 Photo: Brynmawr.edu

7. Wheaton College
The dishes at Wheaton College dining halls sound like they're straight from a farm-to-table restaurant: burgers made with local beef and turkey, flavored yogurts using milk from a nearby farm, and pizzas featuring hand-grated, locally sourced mozzarella. To top it off, the school's state-of-the-art Sport and Recreation Complex offers everything from rock climbing to pilates classes.
8. Cornell University
Menus at Cornell University dining halls use a little green apple icon to denote particularly healthy options, and their fitness center offers students access to personal trainers and different types of fun exercise classes.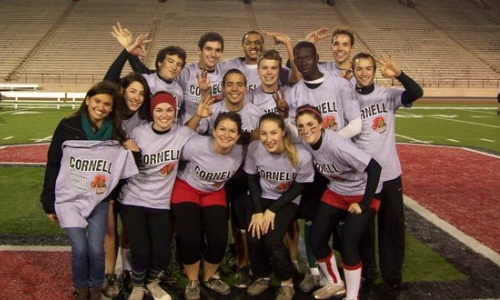 Photo: Cornell.edu

9. University of Massachusetts at Amherst
The fitness classes at University of Massachusetts at Amherst have exercise classes more than covered: there's kickboxing, spinning, zumba, yoga and even a 10-week class called UFit that guides students through losing weight and maintaining healthy lifestyles.
Do you feel healthier already? Good! Now get to those college applications! And, that doesn't excuse you from actually exercising.