Explore how college sports are governed and divided through the National Collegiate Athletic Association.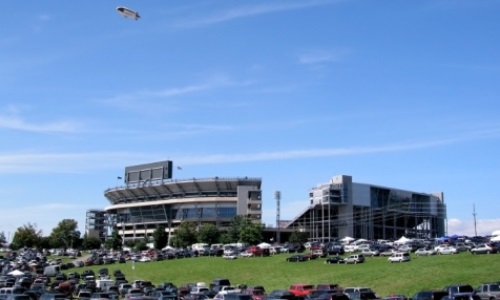 Photo: Thinkstock
It's responsible for the Rose Bowl, March Madness, and most of your favorite professional athletes. By now, you've probably heard a lot about the National College Athletic Association, or NCAA, but with so many rules, divisions, conferences, and teams, the details can get confusing pretty quickly. In this article, we'll give you the inside scoop on the main governing body of college sports.
The five schools with the most NCAA championships are all west of the Mississippi.
History
The NCAA has existed for over a hundred years. Founded in 1906 as the Intercollegiate Athletic Association of the United States (IAAUS), the organization's original purpose was to enforce safety in college football. In 1910, the IAAUS became the NCAA.
Initially, the NCAA only governed men's college sports. Governing women's college sports fell upon the Association for Intercollegiate Athletics for Women (AIAW) until 1982, when the NCAA began to offer championships for women's sports as well.
Divisions
Since 1973, the NCAA has organized its member schools into three divisions. Schools in Divisions I and Division II can offer scholarships to student-athletes, while Division III colleges cannot.
Divisions are determined by school size and budget, with larger schools competing in Divisions I and II and smaller schools in Division III. In NCAA football, Division I is broken down into two subdivisions: the Football Bowl Subdivision (FBS) and Football Championship Subdivision (FCS).
Sports
There are currently 22 NCAA sports:
Basketball
Baseball (men only)
Bowling (men only)
Cross country
Fencing
Field hockey (women only)
Football (men only)
Golf
Gymnastics
Ice hockey
Lacrosse
Rifling
Rowing (women only)
Skiing
Soccer
Softball (women only)
Swimming & diving
Tennis
Track & field
Volleyball
Water polo
Wrestling (men only)
College sports that aren't sanctioned by the NCAA have a different governing organization. For example, USA Rugby and the International Rugby Board oversee rugby while men's rowing is governed by the Intercollegiate Rowing Association.
Championships
All NCAA sports have annual championships. The size of the sport dictates the type of championship for each division, or two separate championships for men and women's teams.
Football governance is a bit different. The FCS, Division II, and Division III each have their own championships while the FBS hosts a national championship game, with each FBS season ending in a series of bowl games.
As of 1998, the Rose Bowl, Sugar Bowl, Orange Bowl, and Fiesta Bowl are determined by the Bowl Championship Series (BCS). The BCS is a computerized system that combines various factors, including polling statistics, to choose the participants of the four BCS games and the national championship.
Interestingly, the five schools with the most NCAA championships are all west of the Mississippi. UCLA tops the list, followed by Stanford, USC, Oklahoma State, and Texas.
Student Eligibility
The eligibility requirements for NCAA student athletes are surprisingly straightforward. To meet freshman eligibility, a student must:
Be a high school graduate
Have completed 16 high school courses with the following distribution:

4 years of English
3 years of math
2 years of natural/physical science
2 years of social science
1 additional year of English, math, or natural/physical science
4 years of any additional academic courses, including foreign language or philosophy

Meet high school GPA and SAT/ACT requirements
You can check out the full NCAA freshman eligibility guide here.
Other Intercollegiate Athletic Organizations
However, the NCAA doesn't cover everything. Non-NCAA and club sports have their own governing bodies.
Some organizations, like the National Christian College Athletic Association (NCCAA), are intended for schools that share a common interest. Junior colleges, for example, fall under the supervision of the National Junior College Athletic Association.
The most prominent non-NCAA governing body is the National Association of Intercollegiate Athletics (NAIA). The NAIA has 290 members, and sponsors 23 national championships. That's more championships than the NCAA!