Get the inside scoop from college students on your campus visit.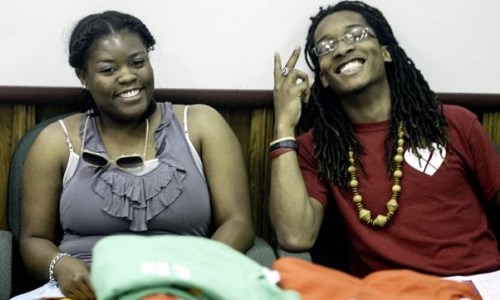 Photo: Knoxnews.com
Campus visits are an essential part of researching colleges. But your tour guide can only tell you so much. If you want to find out more than what the brochure says, make sure to talk to some current students while you're on campus. This is a great opportunity to learn more about what each school has to offer. Find out what questions to ask to get the straight dope when you're searching for your college match.
Academics
Your primary concern when considering a college will be whether it has the program you're interested in. But beyond that, there are several factors that can affect your academic experience at a school. While a tour guide can tell you the average class size or the faculty-to-student ratio, other students at the college may be able to give you more insight. In addition, higher-education journalist and author of "The College Solution" Lynn O'Shaughnessy recommends talking to a few professors if you get the chance. Here are some questions to ask if you want to know more about the academics at a particular school:
How accessible are the professors outside of class?
Are most classes taught by a professor or a teaching assistant (TA)?
How much time do you spend on homework for each class?
What's the average class size for introductory classes?
What's the average class size for upper-level classes?
Are there many opportunities for undergraduate research?
Is there a tutoring program and/or a writing center?
How helpful are the academic advisors?
Try to talk to a few different students at each school you tour to get a well-rounded idea of what to expect.
Campus Life
On a campus tour, your guide will likely tout major events on campus like an annual student organization fair or exciting sporting events. But what's the campus like the rest of the year? A current student will be able to give you an idea of what you can expect day in and day out. You can ask questions like these in order to get an idea of what campus life is like:
Do most freshmen live in the dorms? What about upperclassmen?
What are the dorms like? Which is the best to live in?
Where do students live when they move off campus?
What percentage of students commute?
Do most students go home on the weekends?
Do most students join a student organization or group?
Are lots of students in sororities or fraternities?
Are there a lot of campus events going on or is campus relatively quiet?
How many students are around during the summer?
Are college sports a big deal to students here?
What are some of the best and worst amenities on campus?
What are some of the latest/biggest issues or controversies on campus?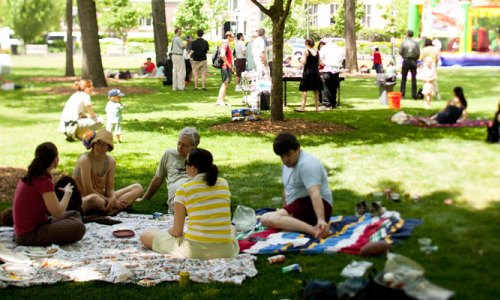 Photo: Uchicago.edu
Social Atmosphere
For a general sense of what social life is like on campus, Martha C. Merrill, Dean of Admission and Financial Aid at Connecticut College, recommends asking what a typical weekend on campus is like. If you want to get a little more specific about the social atmosphere at a particular school, you can ask a student some of these questions:
What do students do for fun on campus?
What are some popular things to do off campus?
Do students often socialize during the week or only on weekends?
Is partying a major social component or something only a fraction of students do?
How is the dating scene? Do most students date casually or seriously?
How easy is it to make friends? Are people eager to meet others or do they keep to themselves?
Logistics
Academics, campus life and social atmosphere are all important. But if you really want to attend a specific college, it's important to get down to brass tacks. How will you afford it? How long will it take to get your degree? What do you need to bring? These questions are just as important to ask a student if you want to learn more. Here are a few more things you might want to ask about:
Does the school offer a lot of institutional scholarships or grants?
Do many students have work-study jobs? What kinds of positions do they have?
How long do most students take to earn their degree?
Is housing guaranteed for freshmen?
Do most students bring a car?
How do most students travel when they go home over breaks or holidays?
While it's helpful to talk to current students when researching schools, keep in mind that everyone's college experience is a bit different. Try to talk to a few different students at each school to get a more well-rounded idea of what to expect. And most importantly, remember to pay attention to your own gut feelings and inclinations when it comes to deciding where to apply.