Find out which schools offer state-of-the-art computer labs for students.
Your computer lab may affect your college experience more than you think. For starters, learning new types of technology is an excellent resume-builder for your job search after graduation. Meanwhile, access to the best journal subscriptions, e-Books, software and programs allows you to expand your education further. Check out these schools which offer some of the top college computer labs in the country.
Many of today's top universities are making it a priority to have the most advanced software and programs available to their students.
University of Texas, San Antonio
The University of Texas at San Antonio (UTSA) opened the first bookless library on a college campus in 2010. This information commons and computer center is designed specifically for students in the university's College of Science and College of Engineering. The university also allows students to check out tech gear to use for limited periods of time. Students can borrow laptop computers, headphones, memory card readers, calculators, camcorders, tripods, DVD players, digital voice recorders, USB turntables, slide projectors and more. Adaptive technology is also available in all three UTSA computer labs to help students with disabilities.
Ringling College of Art and Design
At Ringling College of Art and Design in Sarasota, Florida, there's no shortage of computers for students to work with. In fact, this school topped U.S. News and World Report's list of the most wired college campuses by having an astounding 2,500 computers available to its 1,138 students. In addition, all students at the school receive free MacBook Pro notebook computers for the duration of their enrollment. Ringling students can enhance their artistic projects with computer lab capabilities like large-format printing, Wacom tablets and the latest software. When it comes to finding a computer lab to work in, there are over two dozen labs spread throughout the campus, making access a breeze.
Massachusetts Institute of Technology
The MIT Computer Science and Artificial Intelligence Laboratory is one of the more advanced information technology research labs in the world. This is a computer lab dedicated to advancing computer technology. There are around 400 MIT students (most of which are graduate students) who conduct research and work on projects in the lab along with research scientists, faculty members and postdoctoral fellows. Housed in an eight-floor building, some of the most exciting projects in encryption, computer science, artificial intelligence, robotics and other information technology topics are being conducted in this space at MIT. Getting the chance to work in this exclusive lab is certainly something that an MIT grad would want to boast on their resume.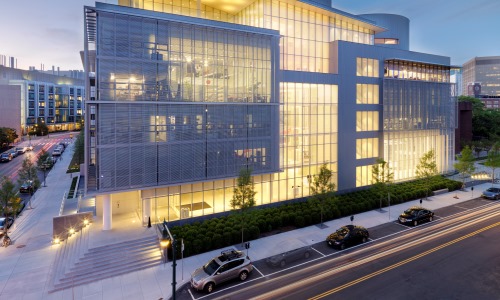 Photo: Wikimedia.org

Carnegie Mellon University
At Carnegie Mellon University in Pittsburgh, there are over 25 smaller computer labs called "clusters" located all over campus. In addition to being fairly close to a lab no matter where they are on campus, students also have a wide variety of computer and software options from which to choose. If there's a specific computer type or program that a student needs, he or she can make a reservation online quickly and easily. Plus, certain clusters have specific uses, like one that's designed for collaborative teaching and one focused on multimedia.
University of Toledo
The University of Toledo offers a unique option for its students: access to the computer lab from the comfort of their own homes – or anywhere in the world. To use the virtual lab, students simply download a program to their computer. Then, they can sign in to access virtual machines that have pre-loaded software and applications. Access is free for students – they just need a network connection and the aforementioned program. This is a great option for all UT students, but it's especially helpful for online students, commuter students and students studying abroad.
Rensselaer Polytechnic Institute
With students at Rensselaer Polytechnic Institute (RPI) studying advanced math, computer science, psychics and/or engineering, computer access is critical. Students are required to have a laptop that meets the school's specifications – the university's Mobile Computer Program actually provides state-of-the-art laptops with all the software they need pre-loaded. In addition, the Voorhees Computing Center offers access to computers with programming language compliers, numeric and symbolic computation programs and computer-aided design packages 24 hours a day, seven days a week. RPI's Russell Sage Laboratory provides access to advanced multimedia equipment, including an advanced digital imaging and animation lab and equipment for video production and sound editing. For students who need high-performance computing, a select number of suitable computers can be reserved.
Many of today's top universities are making it a priority to have the most advanced software and programs available to their students. If you hope to master new technology during your college years, make sure to find out what computing capabilities your potential schools' computer labs and libraries have to offer students.