See which colleges offer top-notch programs in environmentally friendly farming.
Are you interested in organic farming? Perhaps a degree in sustainable agriculture is the perfect way to turn your passion into a career. Sustainable agriculture programs are becoming more common as an increasing number of people are looking for environmentally responsible, healthy food sources. Check out which colleges and universities offer the best sustainable agriculture programs.
Montana State University: Sustainable Food and Bioenergy Systems
Montana State University's (MSU) location in Bozeman provides students with ample opportunities for learning about where our food comes from. Students in MSU's sustainable food and bioenergy systems program explore the work that goes into sustainable food production, distribution and consumption. Each student chooses one of four degree options in this field to tailor their coursework to their career goals:
Sustainable Food Systems
Sustainable Crop Production
Sustainable Livestock Production
Agroecology
Program highlights include:
Complementary courses in a wide range of topics, including political science, business, economics, engineering and Native American studies
Two required internships — one on-campus at MSU's vegetable farm and one off-campus at a partnering farm or ranch
Student organizations like Students for a Sustainable Future and Friends of Local Food
University of California, Santa Cruz — Agroecology and Sustainable Food Systems
The University of California, Santa Cruz (UCSC), developed the Center for Agroecology and Sustainable Food Systems as a way for students to learn how to create environmentally friendly and socially responsible agricultural systems. Though the program is interdisciplinary, students devoted to a career in sustainable food production generally major in environmental studies and pursue a concentration in agroecology and sustainable agriculture. The center also offers a PhD program in environmental studies with a similar area of emphasis.
Program highlights include:
Ability to design custom research projects for course credit or a senior thesis project
Hands-on experience at the UCSC farm
Internship and volunteer opportunities at college gardens and community farms
Possibility of participating in a full-time apprenticeship in ecological horticulture for course credit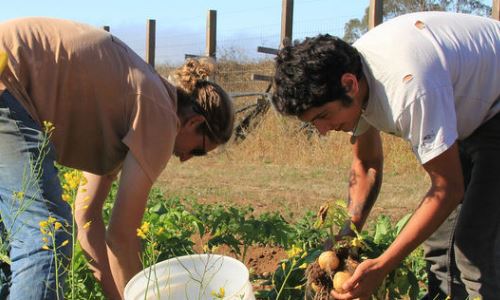 Photo: Ucsc.edu

University of Kentucky — Sustainable Agriculture
At the University of Kentucky (UK) in Lexington, students can choose to major or minor in sustainable agriculture. Because the school has its own College of Agriculture, there is a plethora of resources, experienced educators and related coursework available to sustainable agriculture students at UK.
Program highlights include:
Interdisciplinary curriculum that can be tailored to each student's career goals and interests
Internship opportunities at farms, organizations and academic institutions all over the world
Apprenticeship on a certified organic community supported agriculture (CSA) project
University of Missouri — Sustainable Agriculture
The University of Missouri (MU) in Columbia offers students the chance to earn a bachelor of science in sustainable agriculture. Because the program is facilitated by MU's College of Agriculture, Food and Natural Resources (which has over a dozen degree programs), there are numerous crossover courses that students can take to develop their skills and knowledge.
Program highlights include:
Hands-on experience with both rural and urban sustainable farming projects
Access to an agricultural research farm in Mt. Vernon, Missouri
Student groups on campus, including Sustain Mizzou and Tigers for Community Agriculture
Scholarship opportunities through the College of Agriculture, Food and Natural Resources
Study abroad opportunities available over a semester, summer, spring break or winter break
Sterling College — Sustainable Agriculture and Food Systems
At Sterling College, all academic programs are geared towards environmental topics, such as ecology, outdoor education and environmental humanities. However, it's the school's sustainable agriculture and food systems program that focuses on creating healthy, organic food. This degree program explores the history of food production as well as the cultural and ecological context of food. The college's rural location in Craftsbury, Vermont, keeps students in touch with local farmers and reinforces the importance of small-scale farming.
Program highlights include:
Field visits to artisanal food producers in the region
Seminars on specialized topics like food writing and lacto-fermentation
Hands-on experience at Sterling College's farm, where most of the food consumed on campus is grown
Complementary coursework in topics like small business management and agricultural policy
Study abroad opportunities in places like Belize, Israel and the Bahamas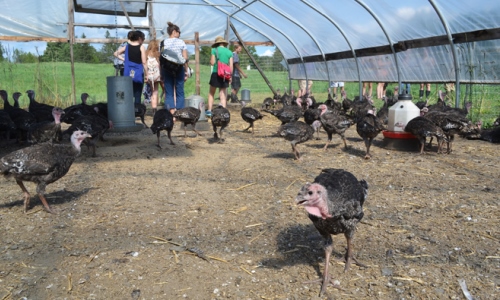 Photo: Bartonchronicle.com

College of the Atlantic — Sustainable Food Systems
This progressive college located in Bar Harbor, Maine, actually has no academic departments. However, students have the option to pursue a specific program that interests them. At College of the Atlantic, the sustainable food systems program allows students who are passionate about organic farming and sustainable agriculture to learn all about this exciting field from a scientific, social, cultural, historical and political perspective.
Program highlights include:
Hands-on experience through small-scale farming at the college's organic vegetable and grass-fed livestock farms
Study abroad opportunities in Latin America where students learn about tropical agroecological systems
Internship and research opportunities through school partnerships with organizations like Maine Farmland Trust, Healthy Acadia and the New England Farmers Union
A degree in sustainable agriculture is sure to be in high demand in the coming years. Check out one of the colleges mentioned here if you're interested in pursuing a career in sustainable farming practices.