See All
Colleges >
Mental Health Counseling/Counselor Colleges
Mental Health Counseling/Counselor Colleges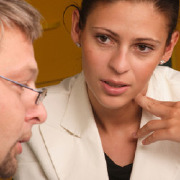 A program that prepares individuals to provide evaluations, referrals, and short-term counseling services to help people prevent or remediate personal problems, conflicts, and emotional crises. Includes instruction in human development, psychopathology, individual and group counseling, personality theory, career assessment, patient screening and referral, observation and testing techniques, interviewing skills, professional standards and ethics, and applicable laws and regulations.
Most Popular
Mental Health Counseling/Counselor Colleges
Quick Search: Find the College that's Right for You!
Advertisement