See All
Colleges >
Types of Certificate Programs
Types of Certificate Programs
Check out the most popular certificate programs by industry.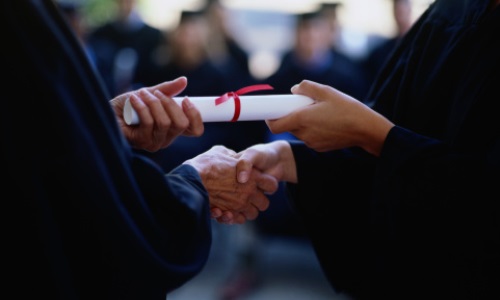 Photo: Thinkstock
So, you're ready to stop working at that dead-end job and start your career. What's your next move?
It used to be that employers valued certificates much less than degrees. This isn't the case anymore, as employers see certificates as a valid way for an employee to increase his knowledge or specialize in a subject.
Today there is a certificate program for pretty much all industries, as technology and industry standards continue to evolve.
You might already have a good idea of what certificate program you want to take. But, chances are if you're reading this you probably need some help deciding. To help with your decision, read on to learn about the different types of certificate programs.
Undergraduate and Graduate Certificate Programs
There are two main types of certificate programs: undergraduate and graduate. Undergraduate certificate programs are designed for students who have a high school diploma or GED. They provide basic career skills that allow students to obtain entry-level positions within their field.
Graduate certificate programs cater to students who have earned a bachelors degree or masters degree. Typically these students need additional career training in order to earn a promotion, increase their salary potential, or just to stay on top of industry standards and technologies.
Often there are undergraduate and graduate certificate programs for the same subject. The undergraduate curriculum is more basic, while the graduate certificate provides more in depth information.
Academic Credit for Certificate Programs
Sometimes certificate programs provide college credit to students. However, many programs do not.
If you are interested in earning an associates degree, bachelors degree or masters degree after getting a certificate, it is in your best interest to find a program that allows you to earn academic credit. This way you can knock off a few required courses and decrease the amount of time you need to spend in your degree program.
If you are attending an undergraduate certificate program for career training, like an HVAC certificate, chances are that you won't get college credit for your courses.
Types of Certificate Programs
Career training and continued education is highly valued in the work place. Today there is a certificate program for pretty much all industries, as technology and industry standards continue to evolve. The most popular industries to get a certificate in are business, healthcare and technology. However, a certificate can be relevant for a variety of industries.
Click on the links below to learn more about the types of certificates offered by industry.
People Who Read This Article Also Read:
What Are Certificate Programs?
Is a Certificate Program Right for Me?
Online Certificate Programs
What Types of Schools Offer Certificate Programs?
Paying for Your Certificate Program
20 In Demand Certificates
Earning More Than One Certificate
Career Prospects with a Certificate

Advertisement
Visit Our Student Center

Get on track!
And find out everything you need to know about planning for college.
Advertisement