See All
Colleges >
Industrial Electronics Technician Colleges
Industrial Electronics Technician Colleges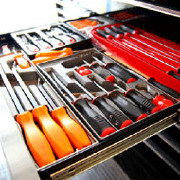 Industrial Electronics Technician majors learn how to maintain, diagnose and repair the electronic components that control industrial equipment. In this major students can expect plenty of hands-on instruction. Courses cover diagnostic tools, electrical fundamentals, microcomputers and electrical controls.
Programs are offered at technical schools, career colleges, community colleges, online schools, 4-year colleges and universities. Usually the Industrial Electronic Technician major leads to a certificate or an associate career training degree. A handful of schools offer bachelors degree programs for students.
If you're interested in a Industrial Electronics Technician program you should be comfortable with and interested in new technology. Even after you've finished school, you'll need to learn the latest technologies throughout your career. Good hands and eyes can help when you're working with electronic components. And problem-solving skills will come in handy as you're diagnosing broken machinery.
With these skills you may want to explore other Skilled Trades majors: Aircraft Maintenance; Aircraft Powerplant Technology/Technician; Alternative Fuel Vehicle Technology/Technician; Appliance Installation and Repair Technology/Technician; Autobody Repair; Automobile/Automotive Mechanics Technology/Technician; Avionics Technician; Bicycle Mechanics and Repair Technology/Technician; Business Machine Repairer; Communications Systems Installation and Repair Technology; Computer Installation & Repair; Diesel Mechanics Technology/Technician; Electrical/Electronics Equipment Installation and Repair; Electrical/Electronics Maintenance and Repair Technology; Engine Machinist; Gunsmithing/Gunsmith; Heating, Air Conditioning, Ventilation and Refrigeration Maintenance Technology/Technician (HAC, HACR, HVAC, HVACR); Heavy Equipment Maintenance Technology/Technician; Heavy/Industrial Equipment Maintenance Technologies; Industrial Mechanics and Maintenance Technology; Locksmithing and Safe Repair; Marine Maintenance; Mechanic and Repair Technologies/Technicians; Mechanics and Repairers; Medium/Heavy Vehicle and Truck Technology/Technician; Motorcycle Maintenance and Repair Technology/Technician; Musical Instrument Fabrication and Repair; Parts and Warehousing Operations and Maintenance Technology/Technician; Precision Systems Maintenance and Repair Technologies; Security System Installation, Repair, and Inspection Technology/Technician; Small Engine Mechanics and Repair Technology/Technician; Vehicle Emissions Inspection and Maintenance Technology/Technician; Vehicle Maintenance and Repair Technologies and Watchmaking and Jewelrymaking.
Find Schools Offering Industrial Electronics Technician Degree Programs
Choosing an Industrial Electronics Technician School
You'll find over 200 technical schools, career colleges, community colleges, 4-year colleges and universities with the Industrial Electronics Technician major, though most of the schools are located in the eastern half of the country. Beyond choosing a college program in your area, you should take a closer look at the labs where you'll get your hands-on training. Internship opportunities and career placement services can be vital when it comes to finding a job after graduation.
Find Industrial Electronics Technician Schools
Industrial Electronics Technician Degree Programs
Many certificate programs, which take about a year to complete, are offered at technical schools and career colleges. These programs teach the basics of diagnosing, installing and repairing industrial electronics equipment.
However, most employers look for associates degrees when hiring industrial electronics technicians. These 2-year programs allow time for more advanced training, reducing the amount of on-the-job training. Students will study digital electronics, electrical devices, networking, computer-aided design and industrial controls. As the industry becomes more competitive, this may be a better degree choice.
A small number of college, university and technical school bachelors degrees are also available. Students in these programs will learn advanced skill, which can lead to higher-paying positions quicker.
Industrial Electronics Technician Degree Programs:
Online Industrial Electronics Technician Degree Programs at Online Schools
A few technical schools, colleges and universities offer Industrial Electronics Technician online degree programs. Online school may be a good option for you if you're already working a full time job and don't have time for a typical school schedule. However, if you're a hands-on person and don't learn well by reading materials as you'll do in online school, you may want to look for evening classes on campus. You can get an online degree at the certificate, associates degree and bachelors degree level.
Online Industrial Electronics Technician Schools:
ITT Technical Institute Online
High School Preparation
If you want to study to be an Industrial Electronics Technician in college, you can do a few things to get ahead while you're still in high school. Good grades in science classes will look good on college applications since you'll learn the basics of electricity and electronics. Computer courses will also help you build important skills. Don't discount reading and language courses either, you'll need to be able to tackle tough technical manuals on the job.
Find Schools Offering Industrial Electronics Technician Degree Programs
Popular Careers in the Field of Industrial Electronics Technician
Slow growth is expected for Industrial Electronics Technician careers, in part because more and more equipment is being automated. Job seekers with associate and bachelors degrees should have an easier time finding work, though certificate-holders will qualify for jobs, too.
Industrial Electronics Technician careers yield average hourly wages between $18 and $29. Careers are found in a variety of factory settings as workers work with electronic controls of factory equipment.
With training and work experience some Industrial Electronics Technician majors advance to supervisory positions or open their own repair shops. Others move in to specialist or troubleshooting roles and are called on for the most difficult problems.
Other careers for Skilled Technicians includes Aircraft Mechanics, Automotive Service Technicians and Mechanics, Avionics Technicians, Computer Repairers and Direct Engine Specialists.
Find Schools Offering Industrial Electronics Technician Degree Programs
Top 10 Most Popular
Industrial Electronics Technician Colleges
Advertisement