See All
Colleges >
Aircraft Maintenance Colleges
Aircraft Maintenance Colleges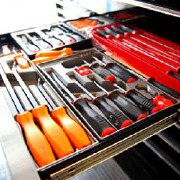 Aircraft safety is a top priority for the Federal Aviation Administration (FAA) and Aircraft Maintenance majors learn how to keep airplanes in line with the strict standards. Students get hands-on training in structural and mechanical aircraft maintenance and repair.
The Aircraft Maintenance major is offered at technical schools, career colleges, community colleges, online schools, 4-year colleges and universities. Many Aircraft Maintenance majors enroll in 12 to 24-month certificate programs or associate career training degree programs. Students who want a deeper understanding of the math and science principles behind aviation often seek bachelors degrees or masters degrees.
The work of an Aircraft Maintenance major keeps airline passengers safe, so for this program you should pay attention to details, be organized and be thorough. Being a good problem solver can help you diagnose and fix aircraft issues. Often, you'll need to lift heavy equipment and work in awkward positions, so you'll need to be in good physical condition.
If you're considering an Aircraft Maintenance program you should explore related majors including Aircraft Powerplant Technology/Technician; Alternative Fuel Vehicle Technology/Technician; Appliance Installation and Repair Technology/Technician; Autobody Repair; Automobile/Automotive Mechanics Technology/Technician; Avionics Technician; Bicycle Mechanics and Repair Technology/Technician; Business Machine Repairer; Communications Systems Installation and Repair Technology; Computer Installation & Repair; Diesel Mechanics Technology/Technician; Electrical/Electronics Equipment Installation and Repair; Electrical/Electronics Maintenance and Repair Technology; Engine Machinist; Gunsmithing/Gunsmith; Heating, Air Conditioning, Ventilation and Refrigeration Maintenance Technology/Technician (HAC, HACR, HVAC, HVACR); Heavy Equipment Maintenance Technology/Technician; Heavy/Industrial Equipment Maintenance Technologies; Industrial Electronics Technician; Industrial Mechanics and Maintenance Technology; Locksmithing and Safe Repair; Marine Maintenance; Mechanic and Repair Technologies/Technicians; Mechanics and Repairers; Medium/Heavy Vehicle and Truck Technology/Technician; Motorcycle Maintenance and Repair Technology/Technician; Musical Instrument Fabrication and Repair; Parts and Warehousing Operations and Maintenance Technology/Technician; Precision Systems Maintenance and Repair Technologies; Security System Installation, Repair, and Inspection Technology/Technician; Small Engine Mechanics and Repair Technology/Technician; Vehicle Emissions Inspection and Maintenance Technology/Technician; Vehicle Maintenance and Repair Technologies and Watchmaking and Jewelrymaking.
Find Schools Offering Aircraft Maintenance Degree Programs
Choosing an Aircraft Maintenance School
Whether you want to attend a technical school, career college, community college, 4-year college or university you can find the Aircraft Maintenance major. The FAA requires that all aircraft technicians are certified, so you should make sure the program or programs you're considering will prepare you to pass the licensing exam.
Find Aircraft Maintenance Schools
Aircraft Maintenance Degree Programs
Twelve to 24-month long certificate and associate career training degrees provide hands-on training experience working on the structural and mechanical components of aircrafts. Technical school and career college programs cover aviation electronics, turbine engines, landing-gear systems, aircraft fuel systems, airframe inspection and more.
Technical school, college and university Aircraft Maintenance bachelors degree programs are also popular. In these 4-year programs you'll have extra time to take advanced courses in physics, chemistry, mechanical drawing, mathematics, electronics and computer science, which will help you perform your job. A masters degree in Aviation Science will provide even more advanced knowledge and can lead to higher paying positions in the field.
Aircraft Maintenance Degree Programs:
High School Preparation
High school students interested in enrolling in an Aircraft Maintenance program should fill his or her schedule with computer and electronics classes. If your school offers auto shop, it can provide an introduction into how vehicles and engines work. On the job, you'll need to take detailed notes and write reports about maintenance work you complete, so reading and writing courses can help you develop those skills.
Find Schools Offering Aircraft Maintenance Degree Programs
Popular Careers in the Field of Aircraft Maintenance
Careers for Aircraft Maintenance majors are expected to be favorable with average job growth. Securing jobs with major airlines that pay the highest salaries will be tough though. Commuter and regional airlines are growing quickly and more opportunities can be found in that segment.
Aircraft Maintenance degree-holders enjoy careers as aircraft mechanics working in airport repair stations, aircraft hangers and at airports. You may specialize in passenger jets, propeller planes or helicopters or an area such as the airframe or the powerplant. If you have the skills to work on the airframe and powerplant, an A&P mechanic, you'll have the best job prospects. Overall, the more advanced your skills are the better your job prospects will be. Average salaries fall between $20 and $29 an hour.
The skills you learn in Aircraft Maintenance are similar to related careers such as Automotive Service Technicians and Mechanics, Commercial and Industrial Equipment Repairers, Computer Repairers, Diesel Engine Specialists, Electric Motor, Power Tool and Related Repairers.
Find Schools Offering Aircraft Maintenance Degree Programs
Top 10 Most Popular
Aircraft Maintenance Colleges
Advertisement