See All
Colleges >
Autobody Repair Colleges
Autobody Repair Colleges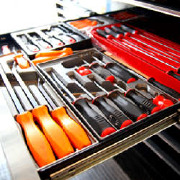 Autobody Repair majors learn how to fix the outside of cars, trucks and other vehicles, often after collisions. Programs provide hands-on instruction in repairing bent bodies and dents as well as replacing totaled parts. Students build skills in welding, painting, estimating costs, using repair equipment and more.
Most Autobody Repair majors enroll in a 12 to 24-month certificate program at a technical school, career college, community college, 4-year college or university. Two-year associate career training degrees are also popular.
If you love cars and have a knack for fixing, restoring or finding out how they work, you're on your way to success in an Autobody Repair program. You should also be good with your hands. An eye for details, form and color is important, too, since you'll paint and reform vehicles.
If you're interested in the Autobody Repair major, consider other Skilled Trades majors: Aircraft Maintenance; Aircraft Powerplant Technology/Technician; Alternative Fuel Vehicle Technology/Technician; Appliance Installation and Repair Technology/Technician; Automobile/Automotive Mechanics Technology/Technician; Avionics Technician; Bicycle Mechanics and Repair Technology/Technician; Business Machine Repairer; Communications Systems Installation and Repair Technology; Computer Installation & Repair; Diesel Mechanics Technology/Technician; Electrical/Electronics Equipment Installation and Repair; Electrical/Electronics Maintenance and Repair Technology; Engine Machinist; Gunsmithing/Gunsmith; Heating, Air Conditioning, Ventilation and Refrigeration Maintenance Technology/Technician (HAC, HACR, HVAC, HVACR); Heavy Equipment Maintenance Technology/Technician; Heavy/Industrial Equipment Maintenance Technologies; Industrial Electronics Technician; Industrial Mechanics and Maintenance Technology; Locksmithing and Safe Repair; Marine Maintenance; Mechanic and Repair Technologies/Technicians; Mechanics and Repairers; Medium/Heavy Vehicle and Truck Technology/Technician; Motorcycle Maintenance and Repair Technology/Technician; Musical Instrument Fabrication and Repair; Parts and Warehousing Operations and Maintenance Technology/Technician; Precision Systems Maintenance and Repair Technologies; Security System Installation, Repair, and Inspection Technology/Technician; Small Engine Mechanics and Repair Technology/Technician; Vehicle Emissions Inspection and Maintenance Technology/Technician; Vehicle Maintenance and Repair Technologies and Watchmaking and Jewelrymaking.
Find Schools Offering Autobody Repair Degree Programs
Choosing an Autobody Repair School
You'll have no problem finding an Autobody Repair program at a reputable technical school, career college, community college, 4-year college or university program nearby. To choose the best school, examine the autobody shop and equipment you'll you use in classes. Look at course requirements to determine whether or not prospective programs will include mechanical repair in addition to autobody repair and to see if there's a balance between theory and hands-on instruction. Internship or apprenticeship opportunities can also be important to help you jumpstart your career.
Autobody Repair Degree Programs
Autobody Repair majors can seek either a certificate or an associates degree. Both types of programs take from 6 to 24 months to complete and are offered at technical schools, career colleges, community colleges, 4-year colleges and universities. While both programs will qualify you for work, longer programs may provide more expertise and help you advance to higher paying positions quicker.
Usually, coursework is a mix of hands-on training and classroom instruction. Students can expect classes in welding, frame analysis, major collision repair, refinishing, suspension systems, body repair fundamentals, paint matching and body shop management and estimating.
Autobody Repair Degree Programs:
High School Preparation
If you want to major in Autobody Repair in college, take auto shop classes in high school. If your school participates in Automotive Youth Education Services or has any kind of auto club get involved. Work hard in science and math classes, especially chemistry and physics. You'll build basic skills that you'll use on the job from mixing paints to using pressurized tools. Even reading classes can come in handy since you'll have to tackle complicated technical manuals.
Find Schools Offering Autobody Repair Degree Programs
Popular Careers in the Field of Autobody Repair
With a certificate or associates degree in Autobody Repair under your belt, job opportunities will be excellent even though the field is only projected to experience average growth.
Autobody Repair majors find work with automotive dealers, repair and maintenance shops and trucking companies. Degree-holders with knowledge in autobody mechanics as well will appeal to employers looking to hire applicants with diverse skill sets. Typical wages for Autobody Repair careers fall between $14 and $24 an hour. Those that focus on glass installation and repair make slightly less averaging between $12 and $19 an hour. With sufficient experience, most autobody repairers are paid incentives for completing more work quickly, leading to higher salaries.
The skills used in Autobody Repair careers are similar to those used by Aircraft Mechanics, Avionics Technicians, Commercial and Industrial Equipment Repairers, Computer Repairers and Diesel Engine Specialists.
Find Schools Offering Autobody Repair Degree Programs
Most Popular
Autobody Repair Colleges
Advertisement