See All
Colleges >
Cosmetology/Cosmetologist Colleges
Cosmetology/Cosmetologist Colleges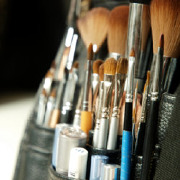 As a Cosmetology/Cosmetologist major you'll learn how to cut and style hair, give facials and manicures, apply makeup and even run a salon. Most students in this field attend a technical school or career college to earn a certificate, which usually takes 9 months. If you're interested in a higher-level degree, you can earn an associates degree or bachelors degree in Cosmetology/Cosmetologist from a technical school, online school, career college, community college, 4-year college or university.
Programs include coursework in skincare, hairstyling, safety and sanitation, sales, marketing and other spa treatments. Much of your beauty school experience will be spent in salon-style labs and many colleges include hours in salon the university's campus.
Cosmetology/Cosmetologist majors are generally creative students who love art, fashion or design. Because your work will be in improving others personal appearances, your own should be neat and potentially trendy. Building a client base is crucial for success so being a people person and a strong salesperson can help.
If you're considering going to Cosmetology/Cosmetologist college, you may be interested in related majors including Manicurist/Nail Specialist, Esthetician & Skin Care and Cosmetology and Related Personal Grooming Arts.
Find Schools Offering Cosmetology/Cosmetologist Degree Programs
Choosing a Cosmetology/Cosmetologist School
Technical schools, career colleges, online schools, community colleges, 4-year colleges and universities nationwide offer Cosmetology/Cosmetologist degree programs. The school you choose should match the type of cosmetology you hope to practice so check for hairstyling, skincare, makeup application and other programs of interest. The facilities are also important since you'll build your skills in labs and the on-campus salon if available. Your instructors should know the latest trends and techniques, so check that they attend shows and workshops to stay up to date. Even though a state license is required to work, each state has different requirements so check that prospective schools will help you qualify in the state you wish to work.
Find Cosmetology/Cosmetologist Schools
Cosmetology/Cosmetologist Degree Programs
Most Cosmetology/Cosmetologist majors enroll in 9-month certificate programs at technical schools or career colleges. This type of beauty school degree program can prepare you for a career in hairstyling or makeup artistry. However, certificate programs for manicurists, pedicurists and skincare specialists often take less time and these careers often earn lower wages.
If you're interested in learning advanced techniques, building a Cosmetology/Cosmetologist career with multiple specialties or interested in more salon business skills, you may want to consider an associates degree or a bachelors degree program. Higher degrees often translate to higher paychecks, too. You can pursue these types of Cosmetology/Cosmetologist degrees at technical schools, career colleges, online schools, community colleges, 4-year colleges and universities.
Cosmetology/Cosmetologist degree programs involve a variety of courses focused on personal appearance, which should prepare you to pass the required state-licensing exam. Students can expect to take beauty school classes like hair cutting, hair coloring, waxing, permanent waving, salon business practices, makeup application and facial treatments. Much of the coursework is completed in salon-style labs and on-campus salons to give you hands-on experience.
Cosmetology/Cosmetologist Degree Programs:
Online Cosmetology/Cosmetologist Degree Programs at Online Schools
Some Cosmetology/Cosmetologist majors can earn an online degree through an online school. While some majors require too much hands-on experience—hairstyling or makeup application for example—other can be completed through online school certificate programs. So if you want to pursue an online degree on your own time and at home, consider studying Cosmetology/Cosmetologist through an online school.
Online Cosmetology/Cosmetologist Schools:
High School Preparation
To improve your chance of success at Cosmetology/Cosmetologist school, take extra art and if available, fashion classes during high school to give yourself a basic understanding of design and color theory. Communication and psychology classes will come in handy for building and keeping clients, too. Also, look for extracurricular activities in the beauty and fashion area such as helping the drama club or dance team behind the scenes with makeup and costumes.
Find Schools Offering Cosmetology/Cosmetologist Degree Programs
Popular Careers in the Field of Cosmetology/Cosmetologist
Careers in beauty offer flexible schedules and nearly half of all Cosmetology/Cosmetologist majors are self-employed. In general, the area is expected to grow slightly faster than normal and entry-level positions should be plentiful. That said, jobs at high-end establishments, which provide the highest salaries, are very competitive.
With the growth of full-service nail salons and spas, comes a need for more manicurists and pedicurists. Hairstylists and hairdressers will see many opportunities, while barbers who only cut men's hair will be less in demand. To jump on the fastest growing market in Cosmetology/Cosmetologist, pursue a career as an esthetician or skincare specialist. Makeup artists are projected to experience impressive growth too, but because the field is so small, competition will still be fierce.
Hourly wages of barbers, hairdressers and hairstylist including tips generally falls between $8 and $14. Skincare specialties earn around $13 an hour and manicurists, pedicurists and shampooers bring in about $8 an hour.
To increase your earning potential and marketability, study and get licensed in many different types of services. Or to advance your career, you can look for managerial positions, teaching or training roles and image consultant businesses. Some Cosmetology/Cosmetologist degree-holders also go on to own a salon.
Find Schools Offering Cosmetology/Cosmetologist Degree Programs
Top 10 Most Popular
Cosmetology/Cosmetologist Colleges
Advertisement