See All
Colleges >
Substance Abuse/Addiction Counseling Colleges
Substance Abuse/Addiction Counseling Colleges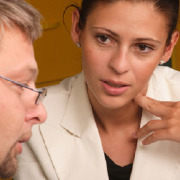 A program that prepares individuals to help prevent substance abuse, counsel individuals and families with drug and alcohol problems, and perform intervention and therapeutic services for persons suffering from addiction. Includes instruction in individual and group counseling skills, psychology of addiction, sociology, crisis intervention, substance abuse identification methodologies, substance abuse treatment modalities, substance abuse prevention and treatment resources, pharmacology and behavioral aspects of abused substances, treatment evaluation, patient observation and education, group dynamics, professional standards and ethics, and applicable law and regulations.
Read More About Substance Abuse/Addiction Counseling Colleges
Top 10 Most Popular
Substance Abuse/Addiction Counseling Colleges
Quick Search: Find the College that's Right for You!
Advertisement