See All
Colleges >
Administrative Services Colleges
Administrative Services Colleges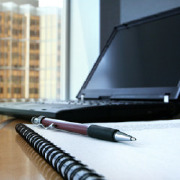 Administrative Services majors learn the skills needed to support staff in a variety of business capacities. After courses in business communication, administrative office management, business math, accounting fundamentals and records management, Administrative Services program graduates can seek careers as administrative assistants, human resources assistants, payroll clerks, benefits administrators, bookkeepers and more.
Most students enroll in certificate programs, online degree programs and associate career training degree programs in Administrative Services. These 1 to 2 year programs are offered at technical schools, career colleges, online schools and community colleges. Even some colleges and universities have these programs. A few students chose to attain a college or university bachelor's or masters degree in Administrative Services, but these degrees often focus more on business administration and management.
To excel in an Administrative Services program you should have excellent skills in the areas of communications, problem solving and decision-making. You should be organized, self-motivated, computer savvy, an independent worker and have a professional demeanor. Typing, spelling and math skills also come in handy. With these traits you should consider related majors including Administrative Assistant and Secretarial Science; Business Operations Support and Secretarial Services; Business/Office Automation/Technology/Data Entry; Customer Service Support/Call Center/Teleservice Operation; Executive Assistant/Executive Secretary; General Office Occupations and Clerical Services; Legal Administrative Assistant; Medical Administrative/Executive Assistant and Medical Secretary; Parts, Warehousing, and Inventory Management Operations; Receptionist; and Traffic, Customs, and Transportation Clerk/Technician.
Find Schools Offering Administrative Services Degree Programs
Choosing a Administrative Services School
Administrative Services programs are plentiful at technical schools, career colleges, online schools, community colleges, 4-year colleges and universities. To narrow down your search, did deeper into the computer skills and software you'll learn—you should learn the latest and as many different programs as you can. If you're interested a specific area of Administrative Services, make sure prospective schools will allow you to focus on one—legal, medical, human resources, financial, travel, hospitality, and so on. Career placement services and internship opportunities are invaluable.
Find Administrative Services Schools
Administrative Services Degree Programs
Administrative Services majors usually seek 1 to 2-year certificate programs and associates degree programs at technical schools, career colleges, online schools and community colleges. Students can expect courses in office computer software, bookkeeping, transcription, business math and basic accounting. Some programs often focus on a more specific career path such as legal administrative assistant or human resources assistant.
Bachelors degrees and even masters degrees in Administrative Services are available from colleges and universities. These 4-year degrees often focus on a particular area of business such as law, fashion, finance or travel. Upon graduation you'll qualify for more advanced and higher paying positions such as executive assistant or office manager. College and university bachelors degrees can also entice employers who look to administrative assistants to pull extra weight with shrinking workforces and complete more complex tasks.
Administrative Services Degree Programs:
Online Administrative Services Degree Programs at Online Schools
If you like the flexibility of online school, you'll have no problem finding an Administrative Services online degree program. Whether you want to work in finance or legal services, of if you want a certificate or a bachelors degree, you can find an online school to match your needs. Upon completion of your online degree, you'll have the skills needed to start an Administrative Services career.
Online Administrative Services Degree Programs:
Online Administrative Services Schools
High School Preparation
If you aspire to study Administrative Services, take the time to build your computer skills while in high school. Beyond proficiency at office applications, you should have quick and accurate typing skills. Accounting, English and psychology will all help you in this major. Look for part time or volunteer work in offices.
Find Schools Offering Administrative Services Degree Programs
Popular Careers in the Field of Administrative Services
Most Administrative Services majors move on to careers as administrative assistants and secretaries. The best jobs will go to candidates with extensive relevant computer knowledge. Salaries for administrative assistants and secretaries range from $23,000 to $36,000. Other positions such as office clerks, information clerks and receptionists earn wages around $20,000 to $32,000 annually.
While bachelors degrees aren't necessary for most roles, some employers prefer them for administrative roles requiring more complex duties. With more experience, and sometimes more schooling, Administrative Services degree-holders get more prestigious jobs as executive secretaries and administrative assistants. These advanced positions earn between $32,000 and $50,000 per year. Secretaries working in the legal industry make similar wages ranging from $31,000 to $51,000.
Human resources assistants, payroll clerks, data entry clerks, benefits administrators and other Administrative Services within human resources generally earn average annual salaries between $28,000 and $41,000. If you built skills in benefit administration or job training during a certificate or associates degree program you'll find the best positions in this area.
Find Schools Offering Administrative Services Degree Programs
Top 10 Most Popular
Administrative Services Colleges
Advertisement