Aviation Colleges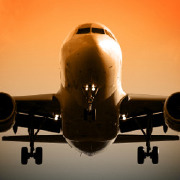 Aviation majors study the business of flying planes. Many students learn how to fly planes and helicopters to become pilots, copilots and flight engineers. These students also learn how to use complicated airplane instruments, plan flight routes, check aircraft controls, make in-flight repairs and make takeoff and landing calculations based on current conditions. Other aviation majors stay on the ground and study areas such as aviation management, air traffic control, aviation safety and airport management.
Aviation majors looking to learn how to fly typically seek an associate career training degree from a technical school, career college, 4-year college or university. Many other aviation majors earn certificates. And those looking for business careers often pursue bachelors degrees from technical schools, colleges and universities.
Especially for those who want to fly planes, aviation majors should be confident, decisive and organized. You'll also need good eyesight, even if that means wearing glasses or contacts. Nearly all careers in aviation require individuals who pay attention to details and stay calm under pressure.
If you may enroll in an Aviation program, consider related majors such as Aeronautics/Aviation/Aerospace Science and Technology; Air Traffic Controller; Air Transportation; Airline Flight Attendant; Airline/Commercial/Professional Pilot and Flight Crew; Aviation/Airway Management and Operations and Flight Instructor.
Find Schools Offering Aviation Degree Programs
Choosing an Aviation School
You'll find about 200 Aviation programs throughout the country. Whether you want to attend a technical school, career college, community college, 4-year college or university, you should dig deeper into each prospective program before you apply. Every paid pilot transporting cargo or passengers must be licensed by the FAA, so make sure prospective programs include 250 flight hours and the instruction to help you pass. Being close to a big transportation hub can come in handy when it comes time for flight training.
Find Aviation Schools
Aviation Degree Programs
Aviation certificate programs, which last about a year, typically prepare students for careers in aviation safety, flight crew and air transportation services.
For students interested in flying, an associates degree is the way to go because it's the minimum most airlines look for when hiring. While you'll need to complete at least 250 hours in-flight, the Aviation major also includes classroom instruction in FAA regulations, aviation meteorology, aircraft operations and more. Associates degrees are also available for students who prefer to stay on the ground with careers in air traffic control and airport management.
As aviation safety and airport management becomes more challenging, more and more students and employers look for bachelors degrees in aviation. These degrees offered at technical schools, online schools, career colleges, 4-year colleges and universities are widely available in aviation management, but also cover air traffic control and flight training.
Aviation Degree Programs:
Online Aviation Degree Programs at Online Schools
While you can't learn to fly a plane through an online school, you can earn an Aviation online degree. Through a technical school, career college, community college, 4-year college or university you can learn the basics of aviation safety, airport management or airline travel services. Aviation online degrees are available at the certificate, associate and bachelors degree level.
Online Aviation Degree Programs:
Online Aviation Schools:
Angley College - Online School
High School Preparation
If you dream of being an airline pilot and studying the Aviation major, make sure you grasp high school math skills because you'll need them to calculate flight plans. Communication is also important, so take speech and English classes. And you'll be operating complicated airline equipment so take courses in computers to become familiar with a variety of programs.
Find Schools Offering Aviation Degree Programs
Popular Careers in the Field of Aviation
Careers in Aviation are projected to experience average job growth. Even so, scoring jobs with the top airline companies can be competitive. Most jobs are located near large metropolitan airports. No matter what type of aviation career you choose, you can expect to work long hours including nights and weekends. Airline pilots in particular spend many hours in-flight and may spend days away from home.
The salaries of pilots depend a lot upon work experience, rank and type of aircraft. In general, airline pilots, copilots and flight engineers earn annual salaries between $82,000 and $150,000. Commercial pilots see salaries around $46,000 to $90,000. Flight attendants make between $28,000 and $50,000 annually. Air traffic controllers earn average salaries between $72,000 to $144,000, but it can be an incredibly stressful job and there are strict requirements for experience and even age to work in the field.
Find Schools Offering Aviation Degree Programs
Top 10 Most Popular
Aviation Colleges
Advertisement