See All
Colleges >
Culinary Arts Colleges
Culinary Arts Colleges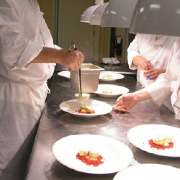 A program that focuses on the general study of the cooking and related culinary arts, and that may prepare individuals for a variety of jobs within the food service industry. Includes instruction in food preparation; cooking techniques; equipment operation and maintenance; sanitation and safety; communication skills; applicable regulations; and principles of food service management.
Top 10 Most Popular
Culinary Arts Colleges
Quick Search: Find the College that's Right for You!
Advertisement