See All
Colleges >
Baking and Pastry Arts Colleges
Baking and Pastry Arts Colleges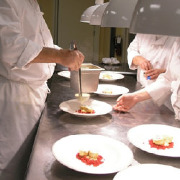 If you want to learn how to bake the most amazing breads and create the most beautiful tortes, the Baking & Pastry Arts major may be perfect for you. Usually programs take two years and lead to an associates degree, but you'll also find many certificate programs at culinary arts-focused career colleges and technical schools, and some bachelors degree programs at colleges and universities.
A college education in Baking & Pastry Arts will prepare you for a career as a baker or pastry chef with classes in cake decorating, artesian bread making, European pastry production, designing with sugar and chocolate, nutrition and applied chemistry. Most programs also have internship programs built in to guarantee real world experience before graduation.
Baking & Pastry Arts majors often have keen taste buds and a love for baked goods. Creativity is helpful for decorating baked goods and paying attention to details is a must for perfect pastries. Since you'll generally work in a bake house with other chefs, teamwork and communication skills come in handy.
Beyond baking, you may be interested in other Culinary Arts majors including Bartending/Bartender, Culinary Arts, Culinary Arts and Related Services, Culinary Arts/Chef Training, Food Preparation/Professional Cooking/Kitchen Assistant, Food Service Waiter/Waitress, and Dining Room Management/Manager, Food Services, Institutional Food Workers, Meat Cutting/Meat Cutter, Personal and Culinary Services and Restaurant & Catering Management.
Find Schools Offering Baking & Pastry Arts Degree Programs
Choosing a Baking & Pastry Arts School
You can find reputable culinary arts colleges nationwide. While some students prefer to attend well-known schools, others find refuge in small class sizes at smaller collges. You may also wish to attend a Baking & Pastry Arts program at a general college or university. No matter what program you choose, check out the kitchen and baking facilities and equipment at prospective schools. If you're interested in a particular specialty, be sure it's offered or look for a school that specializes in it. And finally, ask about program internships and real world baking experience.
Find Baking & Pastry Arts Schools
Baking & Pastry Arts Degree Programs
Most Baking & Pastry Arts majors pursue associates degrees from culinary arts-focused technical schools and career colleges. Others choose to attain a bachelors degree or to complete a certificate program. Beyond culinary arts schools, you'll find Baking & Pastry Arts programs at community colleges, 4-year colleges and universities. These programs often include a broad general studies education that culinary arts colleges do not.
Baking & Pastry Arts programs will teach you hands-on kitchen skills including baking, decorating, icing, health and sanitation regulations and bakery machinery operation and maintenance. Many programs include courses in ingredients, nutrition and applied chemistry that are helpful for creating recipes, as well as business concepts needed for bakers hoping to open their own store in the future.
One of the most important parts of your education will be training that happens in the field. Many programs have internships built in so you'll be sure to have a spot in a local bakery or restaurant to hone your skills in the real world.
Baking & Pastry Arts Degree Programs:
High School Preparation
If you hope to major in Baking & Pastry Arts in college, get a head start during high school by enrolling in as many cooking and baking classes as you can. If they're not offered at your high school, look for other classes in the community. You can also experiment with baking at home and volunteer to lead bake sales at school. Finally, take on a part time job or volunteer to help at a local bakery, catering company or restaurant.
Find Schools Offering Baking & Pastry Arts Degree Programs
Popular Careers in the Field of Baking & Pastry Arts
A degree in Baking & Pastry Arts can open doors to a variety of careers including baker's assistant, pastry chef, cake artist, industrial baker and artesian bread baker. You can find employment in many settings including restaurants, cafes, bakeries, hotels, resorts, food plants and catering companies. Your work may involve dreaming up new pastry recipes, designing wedding cakes, baking bread for a café or creating desserts at a five star restaurant.
Whether you study at a culinary career college or a highly-competitive university, many Baking & Pastry Arts careers start at the bottom with trainee positions at supermarket bakeries and small stores. But as you gain skills and experience, you can advance your career. The more Baking & Pastry Arts skills you possess, the more career opportunities you'll find. If you can do everything from creating recipes for French pastries to decorating children's cupcakes, some employers will appreciate your diversity. For other jobs, having one strong specialty in European pastries or intricate sugar decorating for example could score you a job.
Typically, salaries for Baking & Pastry Arts careers fall between $18,000 and $28,000. To boost your earning potential, look for supervisory and managerial roles. Highly competitive jobs for executive pastry chefs at prestigious restaurants also come with higher salaries. Some Baking & Pastry Arts majors end up opening their own bakery, restaurant or café or selling a line a baked goods locally or online.
Find Schools Offering Baking & Pastry Arts Degree Programs
Top 10 Most Popular
Baking and Pastry Arts Colleges
Advertisement