See All
Colleges >
Algebra and Number Theory Colleges
Algebra and Number Theory Colleges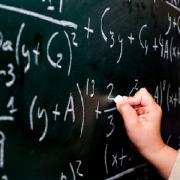 This program teaches students how to express quantities and their relationships through symbols, vectors, matrices, and equations, and the properties of integers. Coursework includes instruction in algebraic structures, quadratic and automorphic forms, combinatorics, linear algebra, and algebraic geometry.
Algebra and Number Theory Colleges
1
Wilmington, Delaware
College degrees offered: Certificate Program, Associates Degree
Quick Search: Find the College that's Right for You!
Advertisement