See All
Colleges >
Computer and Information Systems Security, Information Assurance (CIS, Internet Security) Colleges
Computer and Information Systems Security, Information Assurance (CIS, Internet Security) Colleges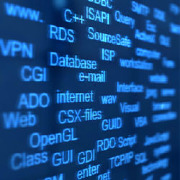 Students who choose to major in Computer Systems Security learn how to assess and implement computer and network security systems. By graduation, you'll know how to design security systems and safeguard computers with cryptography and other security devices.
Programs for Computer Systems Security majors are offered on all levels. Certificate programs and associate career training degree programs offered at technical schools, career colleges, online schools and community colleges typically qualify students for entry level positions and security support services roles. For more advanced careers such as computer systems security administrators, employers prefer candidates with bachelors degrees from colleges, universities, technical schools or career colleges. Some candidates even pursue a masters degree to learn more complex Computer Systems Security technologies.
Beyond being computer savvy and quick learners, most Computer Systems Security majors have impressive analytic thinking skills and are good at solving puzzles and problems. Because a career in Computer Systems Security will require teamwork and likely troubleshooting with users or customers, both verbal and written communication skills are important.
With these skills you should also consider other technology support services majors including Computer and Information Sciences and Support Services; Computer Engineering Technologies/Technicians; Computer Installation & Repair; Computer Systems Analysis/Analyst; Computer Systems Networking and Telecommunications; Computer Systems Technology; Computer/Information Technology Services Administration and Management; Data Processing and Data Processing Technology/Technician; System Administration/Administrator; and System, Networking, and LAN/WAN Management/Manager.
Find Schools Offering Computer Systems Security Degree Programs
Choosing a Computer Systems Security School
You can find a reputable Computer Systems Security program at technical schools, career colleges, online schools, community colleges, 4-year colleges and universities nationwide. When you narrow down your lists of prospective schools, look for state-of-the-art computer labs and courses in the latest software and hardware technologies. Also ask about internships and other hands-on experience opportunities during college, which can be invaluable.
Find Computer Systems Security Schools
Computer Systems Security Degree Programs
All types of degree programs are offered for the Computer Systems Security major. If you want to seek a 1 to 2-year certificate or associates degree, you can find a program at a technical school, career college, online school, community college, 4-year college or university. These programs will give you a background in information security essentials, hacker techniques, network security, project management, legal and security issues and security policies.
To boost earning potential and job prospects, many students go after a Computer Systems Security bachelors degree from a technical school, 4-year college or university. You'll gain even more technical expertise and take general studies courses in research, statistics, social psychology and more. Bachelors degree programs also often have room for specializations such as network security.
A few masters degree programs are also available in Computer Systems Security. Thesse college and university programs will give you added credentials for your career through further education in project management and complex security technologies such as designing new security applications.
Computer Systems Security Degree Programs:
Online Computer Systems Security Degree Programs at Online Schools
Many online school programs are available for Computer Systems Security majors as well. While technology requirements for software and your home computer can be plentiful, the advantage is the luxury of completing your online degree on your own time. Look for online degree programs in Computer Systems Security offered through technical schools, career colleges, community colleges, 4-year colleges and universities.
Online Computer Systems Security Degree Programs:
Online Computer Systems Security Schools:
High School Preparation
Any computer skills you can learn during high school will help you during college and university Computer Systems Security programs. For bachelors degree programs, AP computer science courses can impress college admissions officers. If your high school doesn't offer these courses, consider building skills at your local community college or by attending a summer computer camp. Communication, math and science courses will also help you learn valuable skills.
Find Schools Offering Computer Systems Security Degree Programs
Popular Careers in the Field of Computer Systems Security
Career opportunities are expected to be excellent for all types of jobs within the computer support and systems administration fields, but Computer Systems Security degree-holders should see the best employment prospects as the demand for cyber security grows. Careers are based in a variety of industries including computer systems design, support service companies, government agencies, schools, software publishers, healthcare facilities and telecommunications organizations.
A the entry-level Computer Systems Security majors find work offering troubleshooting and support as a help desk technician or technical support specialist focused on security. Typically these careers bring in annual salaries between $32,000 and $54,000. Bachelors degree and masters degree-holders or candidates with experience can find work in security systems administrations, safeguarding computer systems for businesses and government agencies. These careers yield annual average salaries between $49,000 and $79,000.
You can boost earning potential and advance your career by looking for supervisory or managerial roles. Having a specialty in a particular area of Computer Systems Security such as network security or e-commerce security can also give you an edge when seeking higher paying positions. Many Computer Systems Security careers also translate well to careers like Commercial and Industrial Equipment Repairers, Computer and Information Systems Managers, Computer Repairers, Computer Support Specialists and Computer Systems Analysts.
Find Schools Offering Computer Systems Security Degree Programs
Read More About Computer and Information Systems Security, Information Assurance (CIS, Internet Security) Colleges
Most Popular
Computer and Information Systems Security, Information Assurance (CIS, Internet Security) Colleges
Advertisement