See All
Colleges >
Manicurist/Nail Specialist Colleges
Manicurist/Nail Specialist Colleges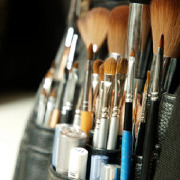 As a Manicurist/Nail Specialist major you'll learn the skills needed to work in a nail salon including shaping and polishing fingernails and toenails, skincare, health and safety and basic business practices.
Usually, students in the Manicurist/Nail Specialist major enroll in a certificate program at a technical school, career college or university, which takes less than a year to complete. A few associate career training degrees are also available.
If you're considering entering a Manicurist/Nail Specialist program, you should be comfortable handling others hands and feet. A creative mind and an interest in fashion and beauty trends is also helpful. Plus, interpersonal skills will help you build and maintain a client base.
Along with Manicurist/Nail Specialist, explore other Cosmetology degree possibilities: Barbering/Barber; Hair Styling & Hair; Cosmetology; Barber/Styling, and Nail Instructor; Electrolysis/Electrology and Electrolysis Technician; Esthetician & Skin Care; Facial Treatment Specialist/Facialist; Laser Therapy Technician; Make-Up Artist/Specialist; Permanent Cosmetics/Makeup and Tattooing and Salon/Beauty Salon Management/Manager.
Find Schools Offering Manicurist/Nail Specialist Degree Programs
Choosing a Manicurist/Nail Specialist School
Future Manicurist/Nail Specialist majors can choose from over 500 technical schools, career colleges and universities. To decide which program is right for you, take a look at the facilities where you'll gain your hands-on experience whether it's in a lab-like classroom or an on-campus salon. You should also make sure the program sufficiently prepares you for the licensing exam you'll have to pass before you can begin working.
Find Manicurist/Nail Specialist Schools
Manicurist/Nail Specialist Degree Programs
While you can find a few 2-year associate career training degree programs, most Manicurist/Nail Specialist programs take less than a year and result in a certificate. Taught at technical schools, career colleges and universities, these programs will give you lots of hands-on instruction and some include best business practices for those interested in owning or managing a nail salon. Coursework will cover performing manicures and pedicures, applying acrylic nails, mending nails with wraps, removing artificial nails, creating nail art, foot massage, skin health and more.
Manicurist/Nail Specialist Degree Programs:
High School Preparation
If you're thinking about studying to be a Manicurist/Nail Specialist in college or university, build beauty expertise while you're in high school. Look for beauty and fashion trends in magazines. Try nail techniques on your own nails and your friends' nails. Take all the art classes you can as they'll help you hone your creative skills and understand color theory. Afterschool, join the backstage crew of the drama team and help with hair, makeup and nails.
Find Schools Offering Manicurist/Nail Specialist Degree Programs
Popular Careers in the Field of Manicurist/Nail Specialist
Overall, the career outlook for Manicurist/Nail Specialist majors should be favorable upon graduation. Entry-level jobs are usually plentiful for nail technicians and manicurists. On average, Manicurist/Nail Specialist careers are associated with hourly wages around $11 an hour, but wages differ depending on area and establishment.
Manicurist/Nail Specialist degree-holders working in recreation and travel earn around $13 an hour. Those working in health and personal care stores earn about $11 an hour, while those in department stores earn only $9 an hour. Typical nail salons or personal care services pay $10.50 per hour. You can also chase higher salaries by moving to the top paying states or cities. Washington D.C. pays $17 an hour on average with Vermont, Oregon, Hawaii and North Dakota offering above average salaries as well. The metropolitan area of Gainesville, Florida pays $19 on average and Holland and Grand Haven, Michigan offer about $17 an hour.
Another way to boost your earning potential and take your career to the next step is to look for managerial positions. With experience and leadership qualities, some Manicurist/Nail Specialists can move up within the nail salon they work at. Some even go on to own a nail salon or nail business. Others choose to learn additional Cosmetology/Cosmetologist skills so they can offer prospective employers an array of expertise.
Find Schools Offering Manicurist/Nail Specialist Degree Programs
Top 10 Most Popular
Manicurist/Nail Specialist Colleges
Advertisement