See All
Colleges >
Secondary Education Colleges
Secondary Education Colleges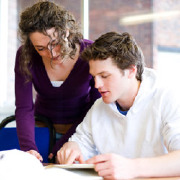 As a Secondary Education major, you'll learn teaching methods appropriate for grades seven through twelve that will prepare you for a career as a high school or middle school teacher. Aside from taking plenty of courses in educational psychology and adolescent behavior, most programs allow for a teaching specialty such as math or English.
To become a secondary school teacher, you'll need at least a bachelors degree, so many students seek a bachelors degree in Secondary Education from a college or university. However, students who already have a bachelors degree in another subject can get the teaching credentials needed through a certificate, associates degree or masters degree program at a technical school, career college, community college, online school, 4-year college or university.
Many Secondary Education majors consider themselves naturals at teaching. If you're considering this major, you also should be patient, compassionate and organized. Communication skills—verbal, written and listening—are important. And a desire to help others and leadership skills are also invaluable.
If you're interested in Secondary Education, you may enjoy related Teacher Training majors including Adult and Continuing Education and Teaching; Adult Literacy Tutor/Instructor; Agricultural Teacher Education; Art Teacher Education; Biology Teacher Education; Business Teacher Education; Chemistry Teacher Education; Computer Teacher Education; Drama and Dance Teacher Education; Driver and Safety Teacher Education; Early Childhood Education; Elementary Education and Teaching; English/Language Arts Teacher Education; Family and Consumer Sciences/Home Economics Teacher Education; Foreign Language Teacher Education; French Language Teacher Education; Geography Teacher Education; German Language Teacher Education; Health Occupations Teacher Education; Health Teacher Education; History Teacher Education; Junior High/Intermediate/Middle School Education and Teaching; Kindergarten/Preschool Education and Teaching; Latin Teacher Education; Mathematics Teacher Education; Montessori Teacher Education; Music Teacher Education; Other Education; Physical Education Teaching and Coaching; Physics Teacher Education; Psychology Teacher Education; Reading Teacher Education; Sales and Marketing Operations/Marketing and Distribution Teacher Education; School Librarian/School Library Media Specialist; Science Teacher Education/General Science Teacher Education; Social Science Teacher Education; Social Studies Teacher Education; Spanish Language Teacher Education; Speech Teacher Education; Teacher Assistant/Aide; Teacher Education and Professional Development, Specific Levels and Methods; Teacher Education and Professional; Development, Specific Subject Areas; Teacher Education, Multiple Levels; Teaching Assistants/Aides; Teaching English as a Second or Foreign Language/ESL Language Instructor; Teaching English or French as a Second or Foreign Language; Teaching French as a Second or Foreign Language; Technical Teacher Education; Technology Teacher Education/Industrial Arts Teacher Education; Trade and Industrial Teacher Education; and Waldorf/Steiner Teacher Education.
Find Schools Offering Secondary Education Degree Programs
Choosing a Secondary Education School
You can find reputable Secondary Education college and university programs around the country. In fact, some are highly competitive to get into. When choosing a school, look at the requirements and find out if you'll be accepted into the program as a freshman or need to apply as a sophomore. You can also find a successful program by examining how many recent grads passed the state licensing exam and how many get teaching jobs right out of school.
Find Secondary Education Schools
Secondary Education Degree Programs
Because a bachelors degree is required to teach at the high school and middle school level, most Secondary Education students enroll in 4-year programs at universities. Students will learn theories, philosophies and methods of education. Most Secondary Education bachelors degree programs include an option to specialize in a particular subject area. So if you want to be a high school science teacher for example, you would focus on science. To boost earning potential, consider specializing in more than one area if you can. You can also expect a student-teaching requirement before graduation.
If you already have a bachelors degree, you can pursue a certificate or associates degree from a technical school, career college, community college, online school, college or university. These Secondary Education programs will give you the basic tools needed to design lesson plans, handle adolescent behavior and teach. Often, you'll be qualified to teach in the subject area of your bachelors degree such as French, business or history.
For the greatest earning potential as a Secondary Education teacher, seek a masters degree. These programs are designed for bachelors degree holders and will include top-level education courses.
Secondary Education Degree Programs:
Online Secondary Education Degree Programs at Online Schools
You can earn an online degree in Secondary Education from an online school if you prefer. These programs are best suited to previous degree-holders who wish to add a certification in Secondary Education. That said, you can seek an online degree on the certificate, associate, bachelor's or master's level. Programs are available through technical schools, career colleges, 4-year colleges and universities.
Online Secondary Education Degree Programs:
Online Secondary Education Schools
High School Preparation
If you're considering the Secondary Education college major, your high school education can help you prepare. You'll need general knowledge in subjects across the board, so don't fall behind in any of your classes. If you have an interest in teaching a certain subject later such as math, take as many classes in that area as you can. Part time or volunteer work as a tutor or camp counselor can impress college admissions officers.
Find Schools Offering Secondary Education Degree Programs
Popular Careers in the Field of Secondary Education
A college bachelors degree in Secondary Education often leads to a career as a Middle School Teacher, Secondary School Teacher or High School Teacher at either a public or private school. The job outlook for these positions is favorable going forward, though the highest demand for teachers is expected to be in the South and West.
In general, wages range from $40,000 to $63,000 annually for careers in Secondary Education. Usually public schools pay higher salaries than private schools and masters degree-holders earn the most. Teachers who want to earn more often add coaching, summer school, after school activities or tutoring to their list of duties.
Some Secondary Education degree-holders pursue more education or seek employment as college levels teachers such as Criminal Justice and Law Enforcement Teachers, Postsecondary, Adult Remedial Education Instructors or Elementary School Teachers.
Find Schools Offering Secondary Education Degree Programs
Most Popular
Secondary Education Colleges
Advertisement