Visual Arts Colleges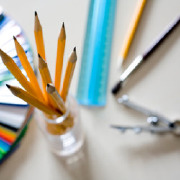 Majors in Visual Arts can study a wide variety of subjects including Illustration, Photography, Painting, Sculpture, Ceramic Art and Ceramics, Drawing, Fashion/Apparel Design and Graphic Design. Art schools offer education paths ranging from certificate programs to masters degree programs with bachelors degrees and associates degrees as well. With more schooling, often comes a more broad liberal arts education base to accompany your artistic skills.
You can study Visual Arts at all types of post-secondary education school settings including technical schools, career colleges, community colleges, online schools, 4-year colleges and universities. Coursework will include plenty of hands-on training in studios, computer labs and the filed. A degree in Visual Arts can prepare you to teach art or to become a professional artist.
To excel at Visual Arts colleges and universities you should possess a certain degree of skill and talent in your chosen field. Because careers in art are competitive and involve a lot of criticism, you should be highly motivated, confident, disciplined, passionate, a self-starter and thick-skinned.
For a career in Visual Arts consider the following majors: Art History, Criticism and Conservation, Art/Art Studies, Arts Management, Commercial & Advertising Art, Commercial Photography, Crafts/Craft Design, Folk Art and Artisanry, Design & Visual Communications, Design and Applied Arts, Fiver, Textile and Weaving Arts, Film/Video and Photographic Arts, Fine Arts and Art Studios, Fine/Studio Arts, Industrial Design, Intermedia/Multimedia, Metal and Jewelry Arts and Printmaking.
Find Schools Offering Visual Arts Degree Programs
Choosing a Visual Arts School
While there's no shortage of Visual Arts colleges, universities, technical schools, online schools, community colleges and career colleges, the one you choose can be a big part of what determines your success. Look for highly skilled instructors and up-to-date art studios and facilities. Ask how many courses you'll take outside your specialty area and how credits transfer to other majors and schools. You can also get a good perspective on college and university programs by looking at the work and careers of recent grads or by visiting on campus student art shows.
Find Visual Arts Schools
Visual Arts Degree Programs
Most students in the Visual Arts pursue a Bachelor of Fine Arts or a Bachelor of Arts from a college or university. With a bachelors degree you'll not only take a large number of courses within your specialty area, but you'll also gain a liberal arts education through core Arts & Humanities classes. A masters degree offers the same benefits, but often puts you side-by-side with more experienced instructors and gives you more time to perfect your Visual Arts skills and build your portfolio.
Some students earn a certificate in 1 to 2 years from a technical school, career college or online school. Careers in the Visual Arts don't often require a degree, especially if you plan to practice your art on a self-employed freelance basis, so sometimes a certificate program can give you the basic skills you need to get started.
An associate transfer degree is a good way to test the waters in Visual Arts majors. You can pursue your art of choice and later you can go back to school to complete your degree or you can choose to get a bachelors degree in another subject to boost your earning potential.
Visual Arts Degree Programs:
Online Visual Arts Degree Programs at Online Schools
Online degree programs as online schools are widely available in the Visual Arts. You can earn a certificate, associates degree, bachelors degree or masters degree through an online school. While some students prefer completing an online degree on their own time, make sure you'll have the resources you need to practice your art skills at home as you go to online school. You should also find out how your art will be evaluated remotely.
Online Visual Arts Degree Programs:
Online Visual Arts Schools:
High School Preparation
During high school you should take as many art classes as possible from drawing to digital art. You should also refine your skills on your own time whether you love making clothes or taking pictures. Many college programs require a portfolio or art samples for your application. Trips to museums and local galleries can help you hone your eye for good art. Extracurricular activities such as the school paper, yearbook staff or stage crew can give you opportunities to develop your skills.
Find Schools Offering Visual Arts Degree Programs
Popular Careers in the Field of Visual Arts
Most Visual Arts degree-holders end up working for themselves after graduation from college or university. A freelance career in art is often highly competitive and requires time to build up a client base. Those that work for art firms enjoy steady work and paychecks. Visual Arts degree-holders earn an average yearly salary between $49,000 and $95,000.
Employment for artists is projected to experience faster than average growth in the coming decade, but at the same time there are more and more qualified artists competing for those jobs. For the most work and highest salaries, artists need to have a strong portfolio to entice clients.
If you wish to use your art and design skills beyond Visual Arts, consider related careers that often offer higher and steadier paychecks such as Interior Designers, Graphic Designers, Commercial and Industrial Designers and Multi-Media Artists and Animators. Visual Arts graduates can also find work as teachers, art directors, medical illustrators and gallery managers. Jobs are available in publishing, advertising, software, motion pictures and newspapers.
Find Schools Offering Visual Arts Degree Programs
Top 10 Most Popular
Visual Arts Colleges
Advertisement