See All
Colleges >
Recording Arts Technology Colleges
Recording Arts Technology Colleges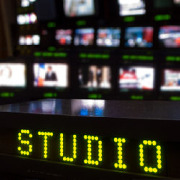 Recording Arts Technology majors learn the art of manipulating sound. Students take hands-on courses using electronic and digital equipment for producing, mixing, editing and recording music, voices and sound effects. Offered at technical schools, career colleges, community colleges, online schools, 4-year colleges and universities, Recording Arts Technology programs prepare students for careers in the film, television and music industries. Students can earn a certificate, associates degree or bachelors degree in 6 months to 4 years.
To excel in the Recording Arts Technology college major, you should be able to recognize perfect pitch and have a knack for electronics. Being able to pick out the different sounds and instruments in music and sound effects may mean you're a natural.
If you're interested in a creative Communication & Media major, explore other similar programs such as Animation & Video Graphics; Audiovisual Technician; Commercial & Advertising Art; Communications Technologies/Technicians and Support Services; Communications Technology/Technician; Computer Graphics; Computer Media Applications; Computer Typography and Composition Equipment Operator; Design & Visual Communications; Design and Applied Arts; Film/Video & Cinematography; General Graphic Communications; Graphic and Printing Equipment Operator, General Production; Graphic Design; Illustration; Intermedia/Multimedia; Other Graphic Communications; Photographic and Film/ Video Technology/Technician and Assistant; Photography; Platemaker/Imager; Printing Management; Printing Press Operator; Publishing & Digital Imaging; Radio & Television Technician and Web Design.
Find Schools Offering Recording Arts Technology Degree Programs
Choosing a Recording Arts Technology School
Technical schools, career colleges, community colleges, online schools, 4-year colleges and universities all offer Recording Arts Technology programs. You can narrow down the field by checking out computer labs and the recording studios where you'll take many of your courses. Programs with internships or other real world experience built in can give you valuable hands-on experience.
Find Recording Arts Technology Schools
Recording Arts Technology Degree Programs
Recording Arts Technology majors typically pursue either certificates or associates degrees in 6-month to 2-year programs offered at technical schools, career colleges, community colleges, online schools, 4-year colleges and universities. Common courses include sound design, sound mixing, sampling, digital audio and government regulations. A few certificate programs are designed to help individuals already working in the industry learn the latest technology.
Technical school, college and university bachelors degree programs are offered to Recording Arts Technology majors, too. Students can expect to develop more advanced skills such as multi-track mixing techniques and will have an opportunity to complete a real world internship or hands-on senior project. Often, bachelors degree-holders enjoy higher salaries throughout their careers.
Recording Arts Technology Degree Programs:
Online Recording Arts Technology Degree Programs at Online Schools
An online degree in Recording Arts Technology from an online school can qualify you for work in the field, too. Many students prefer an online school because they can work on their own time. However, in this program you may need to attend a campus electronics lab on occasion or purchase expensive sound mixing boards and other equipment to earn your online degree.
Online Recording Arts Technology Schools:
High School Preparation
If you plan to major in Recording Arts Technology, incorporate music into your high school education. The more music you expose yourself to, the better you'll be at differentiating different tones and instruments. Join the school choir or play an instrument in the band. Look for opportunities to try your hand at working a soundboard for theater or other school performances. And while it might surprise you, even physics can help you in music education because you'll learn about sound waves and electricity.
Find Schools Offering Recording Arts Technology Degree Programs
Popular Careers in the Field of Recording Arts Technology
Recording Arts Technology career opportunities are expected to grow at an average rate, but because many individuals want to work in the music and film industry, jobs can be highly competitive. The more education and expertise you have in the latest technology, the better your job prospects will be.
After graduation, Recording Arts Technology majors often work as audio technicians setting up equipment for events, television, theater, concerts or presentations. These careers yield salaries between $28,000 and $52,000 a year. Some students find career opportunities in sound effect editing or audio postproduction work earning $24 to $32 an hour. Others work as sound engineering technicians or film recordists earning annual salaries from $33,000 to $70,000.
As a Recording Arts Technology degree-holder you can expect to work with those in related careers such as Broadcast Technicians, Advertising and Promotions Managers, Art Directors, Commercial and Industrial Designers and Desktop Publishers.
Find Schools Offering Recording Arts Technology Degree Programs
Top 10 Most Popular
Recording Arts Technology Colleges
Advertisement