See All
Colleges >
Commercial & Advertising Art Colleges
Commercial & Advertising Art Colleges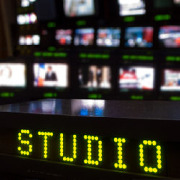 Commercial & Advertising Art majors learn how to mix the business of advertising with art skills. Program coursework is a mix of art and business courses including advertising theories, marketing principles, commercial illustration and graphic design. By graduation, students will be ready to convey messages in visual ads, billboards and product packaging.
Usually, Commercial & Advertising Art majors seek bachelors degrees or associates degrees from 4-year colleges, universities or technical schools. Masters degrees and certificates are available, too and programs are also offered at community colleges, online schools and career colleges.
Creativity and artistic talent are important in this major. Commercial & Advertising Art students should have good teamwork skills as well since many careers require group brainstorming and collaboration.
If you're interested in Communications & Media, consider other majors in the field such as Animation & Video Graphics; Audiovisual Technician; Communications Technologies/Technicians and Support Services; Communications Technology/Technician; Computer Graphics; Computer Media Applications; Computer Typography and Composition Equipment Operator; Design & Visual Communications; Design and Applied Arts; Film/Video & Cinematography; General Graphic Communications; Graphic and Printing Equipment Operator, General Production; Graphic Design; Illustration; Intermedia/Multimedia; Other Graphic Communications; Photographic and Film/ Video Technology/Technician and Assistant; Photography; Platemaker/Imager; Printing Management; Printing Press Operator; Publishing & Digital Imaging; Radio & Television Technician; Recording Arts Technology; and Web Design.
Find Schools Offering Commercial & Advertising Art Degree Programs
Choosing a Commercial & Advertising Art School
Whether you want to attend a technical school, career college, community college, online school, 4-year college or university, you should have no problem finding a reputable Commercial & Advertising Art program. To pick the right school for you, look at the course requirements and areas of specialization—not every program will give you the skills to be a cartoonist for example. Examine the artwork and projects of recent graduates to get a feel for the style and integrity of each school. And finally, make sure you'll learn the latest computer-aided design software and have well-equipped art studios to work in.
Find Commercial & Advertising Art Schools
Commercial & Advertising Art Degree Programs
While some Commercial & Advertising Art majors choose to earn a certificate, employers are increasingly looking for higher-level degrees so an associates degree may be a better option for students without any other college education. These 2 to 3-year programs are offered at technical schools, career colleges, community colleges, 4-year colleges and universities. In the classroom, you'll study branding strategies, design theory and advertising concepts. In the lab, you'll work on illustration, packaging design, typography and computer-aided design.
For the most competitive jobs a bachelors degree in Commercial & Advertising Art from a college, university or technical school can prove valuable, too. A 4-year degree can help you score higher-paying positions at the top ad agencies. Core liberal arts, business and marketing classes will likely be added to your list of course requirements. A masters degree is a good option for Commercial & Advertising Art majors who focused on art or advertising in their undergraduate education.
Commercial & Advertising Art Degree Programs:
Online Commercial & Advertising Art Degree Programs at Online Schools
You can earn a Commercial & Advertising Art online degree from an online school, too. Through an online degree program you'll be able to complete classes on your own time through a technical school, college or university. Because most online school programs place a bigger focus on the business and advertising side of the major, this option is best for students who've already developed their art skills.
Online Commercial & Advertising Art Schools:
ITT Technical Institute Online
The Art Institute of Pittsburgh - Online Division
High School Preparation
Future Commercial & Advertising Art majors should focus on art during high school. Everything from painting to computer design will help you in college. Look for opportunities to develop your skills outside of the classroom, too, such as designing flyers for school events. If your school offers business or advertising courses, they'll be a good introduction as well.
Find Schools Offering Commercial & Advertising Art Degree Programs
Popular Careers in the Field of Commercial & Advertising Art
Most careers in Communication & Media are competitive and Commercial & Advertising Art is no exception. You'll need to prove your talent and creativity at every job interview with a portfolio or Web site to show off your work. A college degree at the associate or bachelor's level can put you ahead of the pack in the job hunt. Skills in computer illustration and Web design will give you an edge as well.
Many Commercial & Advertising Art majors find work with advertising agencies and earn around $44,000 a year. Those that do most of their work on the computer typically earn more, about $53,000 a year. With experience, Commercial & Advertising Art degree-holders can move up to supervisory and lead designer positions. Some even become art directors earning between $54,000 and $108,000 a year on average.
Commercial & Advertising Art majors can look for work in other related careers including Advertising and Promotions Managers, Art Directors, Broadcast Technicians, Commercial and Industrial Designers and Desktop Publishers.
Find Schools Offering Commercial & Advertising Art Degree Programs
Top 10 Most Popular
Commercial & Advertising Art Colleges
Advertisement