See All
Colleges >
Other Audiovisual Technician Colleges
Other Audiovisual Technician Colleges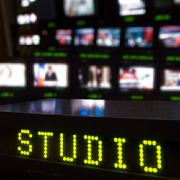 Audiovisual Technician majors become audio and video equipment experts to make magic happen behind the scenes at all kinds of events from music concerts to news conferences. Courses cover audiovisual design, installation and operation including hands-on experience with mixing boards, recording equipment, video monitors and more.
Two-year associate career training degrees are most popular for Audiovisual Technician majors. A large number go after bachelors degrees and certificates, too. Programs are offered at technical schools, career colleges, community colleges, 4-year colleges and universities.
For this Communication & Media major, a good ear for tones and a good eye for details will come in handy. Audiovisual Technician majors should also be comfortable with computers and electronics. If you have lots of energy or if you're a night owl, you're perfectly suited for the long and untraditional hours that are typical in this career.
For other Communication & Media majors beyond Audiovisual Technician, explore Animation & Video Graphics; Commercial & Advertising Art; Communications Technologies/Technicians and Support Services; Communications Technology/Technician; Computer Graphics; Computer Media Applications; Computer Typography and Composition Equipment Operator; Design & Visual Communications; Design and Applied Arts; Film/Video & Cinematography; General Graphic Communications; Graphic and Printing Equipment Operator, General Production; Graphic Design; Illustration; Intermedia/Multimedia; Other Graphic Communications; Photographic and Film/ Video Technology/Technician and Assistant; Photography; Platemaker/Imager; Printing Management; Printing Press Operator; Publishing & Digital Imaging; Radio & Television Technician; Recording Arts Technology; and Web Design.
Find Schools Offering Audiovisual Technician Degree Programs
Choosing an Audiovisual Technician School
The Audiovisual Technician major is offered at about 50 schools. Many are technical schools, but career colleges, community colleges, 4-year colleges and universities offer programs as well. Look for a school that's equipped with the latest audio and video equipment so you'll get the most advanced training possible. If you're interested in a particular industry such as television, broadcast journalism or sports events, find a program with classes or a specialization in that area.
Find Audiovisual Technician Schools
Audiovisual Technician Degree Programs
Audiovisual Technician certificate programs, which take a year or less to complete, are available at technical schools, community colleges and career colleges. These programs will teach you the basics of planning, setting up and operating sound and visual elements for events, television and film. Classes in electronics, math and government regulations are often included, too.
Associate career training degrees, which take about 2 years to complete, give Audiovisual Technician majors added expertise. With more schooling, you'll learn advanced techniques that can qualify you for higher paying positions. Some technical school, college and university programs include instruction in creating special effects for video games or web sites.
A few technical school, college and university bachelors degree programs are available in the Audiovisual Technician major, which can give you an advantage in the job hunt. Often these 4-year programs focus on more advanced topics such as film theory, computer-based audiovisual content or sound design.
Audiovisual Technician Degree Programs:
Online Audiovisual Technician Degree Programs at Online Schools
Online Audiovisual Technician Schools:
Lincoln College - Online School
High School Preparation
During high school, prospective Audiovisual Technician majors should experiment with sound and video as much as possible. Look for opportunities with the drama department, television station or radio station to work with lighting, video and sound. In the classroom, work hard in math classes. Don't write off physics either because that's where you'll get an introduction into how electricity and sound waves work.
Find Schools Offering Audiovisual Technician Degree Programs
Popular Careers in the Field of Audiovisual Technician
Like many careers in Communication & Media, job opportunities for Audiovisual Technician majors can be competitive. The field is experiencing average job growth, but working in television, film, multimedia arts, music and radio is often a competitive business.
Most Audiovisual Technician majors enjoy careers designing audiovisual plans, recording music or voices, creating sound effects, setting up audiovisual technical equipment or creating audiovisual presentations. On average, careers in the field yield salaries between $28,000 and $52,000 annually.
With experience and education some Audiovisual Technician majors go on to careers as sound engineering technicians earning between $33,000 and $70,000 a year. Others find work in film or sound editing or as a multimedia artist earning between $24 and $32 an hour. Audiovisual Technician degree-holders can even sometimes move into careers as Art Directors, Broadcast Technicians, Commercial and Industrial Designers and Desktop Publishers or Advertising and Promotions Managers.
Find Schools Offering Audiovisual Technician Degree Programs
Top 10 Most Popular
Other Audiovisual Technician Colleges
Advertisement