See All
Colleges >
Broadcast Journalism Colleges
Broadcast Journalism Colleges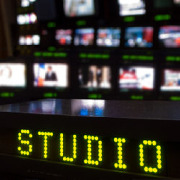 This program teaches individuals the methods and techniques for reporting, producing, and delivering news and news programs in all audio/video mediums. Individuals in this program learn the skills to become journalists, editors, producers, directors, and managers. The program includes instruction in the principles of broadcast technology; broadcast reporting; on- and off-camera and microphone procedures and techniques; program, sound, and video/film editing; program design and production; media law and policy; and professional standards and ethics.
Top 10 Most Popular
Broadcast Journalism Colleges
Quick Search: Find the College that's Right for You!
Advertisement