See All
Colleges >
Construction Management Colleges
Construction Management Colleges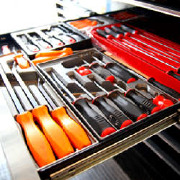 Students who choose to major in Construction Management will learn the skills needed to manage and coordinate construction projects from start to finish including planning, directing, budgeting, supervising and scheduling. Programs often include courses in construction materials, building codes, financial management, labor law and blueprint reading.
For the best employment opportunities, consider a bachelors degree in Construction Management from a technical school, career college, 4-year college, university or online school. Many associates degree programs and certificate programs are also available if you wish to complete school in two years or less. Some college and university masters degree programs are also offered.
If you're interested in Construction Management you should have an interest in building projects and even a satisfaction for seeing a finished product. You'll need skills in math, science and communication. An understanding of design, creativity, a keen attention to detail and an ability to multi-task are also helpful for Construction Management majors. If you're interested in Construction Management, you may be interested in related majors Auctioneering; Business/Corporate Communications; Business/Managerial Economics; E-Commerce/Electronic Commerce; Insurance; International Business/Trade/Commerce; Real Estate; Special Products Marketing Operations; Specialized Merchandising, Sales, and Marketing Operations; Taxation; and Vehicle and Vehicle Parts and Accessories Marketing Operations.
Find Schools Offering Construction Management Degree Programs
Choosing a Construction Management School
You can find reputable Construction Management programs at technical schools, career colleges, community colleges, 4-year colleges and universities throughout the country. One of the biggest factors that can help you succeed in Construction Management is the opportunity for hands-on learning whether through internships, apprenticeships or hands-on classes in the field. You may also want to look at the instructors to see what kind of real world experience they bring to the table and whether or not they're still connected to the industry.
Find Construction Management Schools
Construction Management Degree Programs
While every type of degree program is available to Construction Management majors, employers prefer candidates with bachelors degrees. These 4-year programs are offered at career colleges, 4-year colleges, universities and online schools. Students can expect courses in statistics, architectural science, inspection procedures, contract administration, site planning, project development and more.
Certificate programs and associate career training degree programs are also numerous for Construction Management. These programs take less than two year to complete, but won't offer as broad of an education in Construction Management and you may have a harder time securing top positions in the field.
A few colleges and universities offer masters degree programs. Consider the extra education if you want to work for a large construction company or if you already have a bachelors degree in another field.
Construction Management Degree Programs:
Online Construction Management Degree Programs at Online Schools
If you want to earn an online degree through an online school, you'll find a few programs in Construction Management. These online degree programs are offered at the certificate, associate, bachelor's and masters degree level. By enrolling in an online school, you can keep your day job and study coursework Construction Management on your own time.
Online Construction Management Degree Programs:
Online Construction Management Schools:
High School Preparation
During high school prospective Construction Management majors should focus on math and physics—two subjects that will prove useful throughout your career. Since you'll be leading a team as a construction manager, communication skills are important, too, so work hard in English and speech classes. You can also gain hands-on experience through a part time summer construction job or volunteer work with an organization like Habitat for Humanity.
Find Schools Offering Construction Management Degree Programs
Popular Careers in the Field of Construction Management
The field of Construction Management is expected to grow with better than average job prospects. Bachelors degree holders will have the best opportunities. Careers are found working on construction projects for homes, office buildings, schools, restaurants, shopping malls, hospitals and more. Many Construction Management professionals are independent contractors, others work for building equipment contractors, residential or commercial construction, foundation contractors and electrical contractors. Average annual wages fall between $56,000 and $98,000.
In general, Construction Management graduates with bachelors degrees will begin their careers in entry-level roles as cost estimators, field engineers or project manager assistants. With experience, comes better job opportunities and higher salaries.
To advance a Construction Management career, many individuals work their way up the ladder at a construction company, possibly to top-level manager roles. Others move in to executive roles at construction firms or work as independent consultants. Many of the skills needed for Construction Management can translate to related careers such as Accountants and Auditors, Computer Programmers, General and Operations Managers, Insurance Sales Agents and Insurance Underwriters.
Find Schools Offering Construction Management Degree Programs
Top 10 Most Popular
Construction Management Colleges
Advertisement