See All
Colleges >
Computer Science Colleges
Computer Science Colleges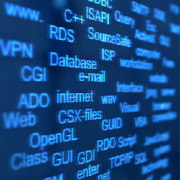 Computer Science majors study computers from a scientific perspective including subjects such as human-computer interactions, algorithms, programming, data structures, virtual reality, computer language theories and software engineering. This major prepares students for roles as inventors, researchers and theorists in the field of Computer Science.
Computer Science majors can enroll in programs lasting one year or more at technical schools, online schools, career colleges, community colleges, 4-year colleges and universities. Bachelors degrees and masters degrees are most common, but some students choose certificate programs or associates degrees.
To succeed as a Computer Science major you should not only be computer savvy and good at math, but also you should be able to juggle multiple tasks with ease. While some computer scientists work on an individual level, others work on a team or have to explain complex theories to users, so communication skills can be important. A good eye for detail, logical thinking skills and creativity are crucial for Computer Science, too.
Prospective Computer Science majors should consider related college and university majors including Computer Programming; Computer Programming Special Applications; Computer Programming/Programmer; Computer Software Engineering; Computer and Information Sciences; General Computer Engineering; General Computer Science and Information Technology.
Find Schools Offering Computer Science Degree Programs
Choosing a Computer Science School
Whether you want to attend a technical school, career college, community college, online school, 4-year college or university, you'll find no shortage of Computer Science programs. To find a school that's right for you, look closely at each program. Many competitive bachelors degree programs for example require minimum grades in freshman computer science courses for you to be accepted as a sophomore. Another important factor to consider is the specialization areas offered such as databases or computer languages.
Find Computer Science Degree Programs Computer Science Schools
Computer Science Degree Programs
All types of degrees are available for Computer Science majors. Certificate programs and 2-year associates degree programs at technical schools, career colleges, community colleges, online schools, 4-year colleges and universities will give you a basic understanding of Computer Science. Generally these Computer Science programs prepare you for a specific career in the field such as a web programmer or information systems technician.
For a more in-depth Computer Science education and to qualify for higher-paying positions later, seek a bachelors degree. A 4-year technical school, college or university program will provide more advanced skills in areas such as programming languages, software engineering, computer science math and software architecture. You'll also take core curriculum courses for a general education base.
Masters degree programs in Computer Science are offered at colleges and universities, too. Often, these programs will focus on a particular area of Computer Science such as Bioinformatics, the rapidly growing field, which combines computer and medical science, and include an intensive hands-on project requirement for graduation.
Computer Science Degree Programs:
Online Computer Science Degree Programs at Online Schools
You can earn an online degree from an online school Computer Science program at the certificate, associate, bachelor's and masters degree level. While many schools have reputable programs, earning an online degree in Computer Science can be tough due to the technology requirements. You'll need advanced software and hardware at home if you choose online school.
Online Computer Science Degree Programs:
Online Computer Science Schools:
High School Preparation
During high school prospective Computer Science majors should hit the books hard in science and advanced math classes. If your school offers AP computer science courses, take them. If not, community college computer science classes or computer science summer camp can give you an edge. Also, read the latest industry news so you know about computer science trends and recent breakthroughs when you start college.
Find Schools Offering Computer Science Degree Programs
Popular Careers in the Field of Computer Science
The Computer Science field is growing rapidly with constant needs for technological advancements, so the job outlook for degree holders is excellent—especially for bachelor's and masters degree holders. Like most careers in technology, the key to success throughout your Computer Science career is to keep up with the latest technologies so your skills are always up to date.
The career possibilities and salary expectations for Computer Science graduates vary greatly depending upon degree level. On the low end, support specialists earn between $32,000 and $54,000 a year. Systems administrators earn $49,000 to $79,000 a year. Database and web developers earn between $55,000 and $103,000 annually. And more advanced careers as database managers and network architects yield average salaries between $78,000 and $116,000 per year.
One way to advance your Computer Science career is by earning certifications. Many private companies offer certifications stating your expertise with their software or hardware products. Others find higher-paying jobs according to skills outside of the Computer Science field, for example, business management skills can help for jobs in business environments and graphic design skills can help for web development positions. Supervisory and managerial positions are also available.
Find Schools Offering Computer Science Degree Programs
Most Popular
Computer Science Colleges
Advertisement