Electrician Colleges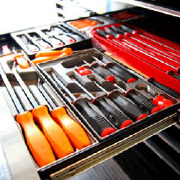 Electrician majors learn how to maintain, install, operate and repair electrical wiring and electrical machines in factories, businesses, construction sites and homes. Classroom instruction includes skills in installing wiring systems, reading blueprints, installing telecommunications equipment, repairing electric equipment, repairing transformers and assessing the safety of equipment.
Because most electricians learn skills on the job through a lengthy apprenticeship process, most Electrician majors enroll in short certificate programs. Usually lasting about one year, these programs are offered at technical schools, career colleges and community colleges as well as some 4-year colleges, universities and online schools. Two-year associate career training degree programs are also common. For students who want to attain a bachelors degree or masters degree in the Electrician major, a few college and university programs are available.
If you want to pursue the Electrician major, you should be interested in learning the ins and outs of electricity. This is a hands-on career, so a steady hand and the ability to work with small parts is a must. A mind for math and how things work will help tremendously. A good eye for detail, focus and a knack for solving puzzles or problems are also good qualities for this program.
With these types of skills you may want to consider related hands-on majors in the Construction Trades field: Blasting/Blaster; Building/Construction Finishing, Management, and Inspection; Building/Construction Site Management/Manager; Building/Home/Construction Inspection/Inspector; Building/Property Maintenance and Manager; Carpentry/Carpenter; Concrete Finishing/Concrete Finisher; Construction Management; Drywall Installation/Drywaller; Electrical and Power Transmission Installation/Installer; Electrical and Power Transmission Installers; General Construction Trades; Glazier; Lineworker; Mason/Masonry; Metal Building Assembly/Assembler; Other Construction Trades; Painting/Painter and Wall Coverer; Pipefitting/Pipefitter and Sprinkler Fitter; Plumbing and Related Water Supply Services; Plumbing Technology/Plumber; Roofer; and Well Drilling/Driller.
Find Schools Offering Electrician Degree Programs
Choosing a Electrician School
You can find Electrician programs at technical schools and universities, career colleges, community colleges, online schools and 4-year colleges. To pick the best program for your needs, consider any specializations you wish to pursue: Do you want to work in construction, or would you rather pursue a career in maintenance? Do you want to work on circuitry, telecommunication wiring or another specific area? Beyond specializations, you should make sure the Electrician labs are up to date and ask about apprenticeships and career placement services.
Find Electrician Schools
Electrician Degree Programs
While a very small number of bachelor's and masters degree programs are available, most students pursue a certificate or associate career training degree at a technical school, career college or community college. These one to two-year programs prepare students to enter the workforce at which point they'll likely start a 4-year apprenticeship. While more schooling isn't necessary, it can help you get a better apprenticeship and sometimes shave off the time it takes to complete it.
Electrician degree programs include classroom instruction on reading blueprints, safety procedures, cranes, how to estimate a job, algebra, electrical codes and more. You can also expect to spend a lot of time in labs for hands-on learning sessions covering wiring, circuitry and more.
Electrician Degree Programs:
Online Electrician Degree Programs at Online Schools
A few Electrician online degree programs are available from technical schools and career colleges. These online school programs will prepare you to begin an electrician apprenticeship. While you won't have hands-on training through online school, to earn your online degree you will read, study and prove proficiency in subjects such as circuits, electrical energy, wiring, blueprints, transforms, motors and safety.
Online Electrician Degree Programs:
Online Electrician Schools:
High School Preparation
During high school, you can prepare for the Electrician major by focusing on algebra, geometry, mechanical drawing and physics. Because you'll need to read manuals, English courses are worthwhile. Even Spanish language classes will prove to be helpful in the event that you end up supervising Spanish-speaking staff later. If possible, find a part time job working at a hardware store, assisting a handyman or in a construction office.
Find Schools Offering Electrician Degree Programs
Popular Careers in the Field of Electrician
Construction Trades, including the filed of Electrician, are currently struggling because people aren't building. However, as the economy continues to pick up, there will be more opportunities for Electrician degree-holders. That said, if you have Electrician skills in the area of maintenance, job prospects will be more steady. The most opportunities are found in cities experiencing growth or areas with an under construction power plant.
Certificate, associates degree, bachelors degree and masters degree-holders usually start work as an apprentice. Jobs are found in commercial and residential construction, electric power generation, motor vehicle parts manufacturing, local government and electrical contractors. Typical hourly wages fall between $16 and $38.
Skills in a variety of special areas such as video or data wiring can help increase job opportunities and earning potential. Many electricians also advance their careers by seeking supervisory roles, electrician inspector positions or an electrical contractor's license to start their own contracting business.
Find Schools Offering Electrician Degree Programs
Top 10 Most Popular
Electrician Colleges
Advertisement