See All
Colleges >
Plumbing Technology/Plumber Colleges
Plumbing Technology/Plumber Colleges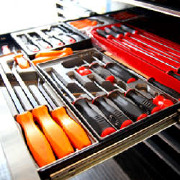 Plumbing Technology/Plumber programs prepare students for a career as a licensed plumber. There's a lot more to know about plumbing beyond how to unclog a drain. Students will learn about drainage, waste removal and water supply pipe systems as well as math, chemistry, physics and blueprint reading.
Most Plumbing Technology/Plumber majors enroll in a certificate program, but several associate career training degree programs are available, too. The major is offered at technical schools, career colleges, community colleges, 4-year colleges and universities.
As a Plumbing Technology/Plumber major you should be good with your hands. Since much of the career will focus on repair, problem-solving skills can help you succeed. On the job you can expect to move and lift heavy equipment, so you should be physically fit.
If the Plumbing Technology/Plumber major interests you, you may want to explore other Construction Trades majors such as Blasting/Blaster; Building/Construction Finishing, Management, and Inspection; Building/Construction Site Management/Manager; Building/Home/Construction Inspection/Inspector; Building/Property Maintenance and Manager; Carpentry/Carpenter; Concrete Finishing/Concrete Finisher; Construction Management; Drywall Installation/Drywaller; Electrical and Power Transmission Installation/Installer; Electrical and Power Transmission Installers; Electrician; General Construction Trades; Glazier; Lineworker; Mason/Masonry; Metal Building Assembly/Assembler; Other Construction Trades; Painting/Painter and Wall Coverer; Pipefitting/Pipefitter and Sprinkler Fitter; Plumbing and Related Water Supply Services; Roofer; and Well Drilling/Driller.
Find Schools Offering Plumbing Technology/Plumber Degree Programs
Choosing a Plumbing Technology/Plumber School
Over 100 schools around the country offer Plumbing Technology/Plumber programs including technical schools, career colleges, community colleges, 4-year colleges and universities. After you earn your certificate or associates degree you'll need to enter an apprenticeship to complete on the job training. Schools that include this element as part of the education or ones that help you find an apprenticeship after graduation should be at the top of your list. If you're interested in owning your own business or becoming a contractor in the future, look for a program with a business management course requirement.
Find Plumbing Technology/Plumber Schools
Plumbing Technology/Plumber Degree Programs
Plumbing Technology/Plumber majors seek either a certificate or an associates degree from a technical school, career college, community college, 4-year college or university. Usually these programs last 6 to 24 months and prepare you to begin a plumbing apprenticeship program, which usually lasts 4 to 5 years.
Many programs give students hands-on training with the tools needed for plumbing work, but most of your hands on training will happen during an apprenticeship. During your degree program you'll also take courses that cover plumbing systems including waste removal, drainage and water supplies. Blueprint reading, plumbing codes and even interpersonal communications are all typical as well. Some longer programs may include a course in construction management.
Plumbing Technology/Plumber Degree Programs:
High School Preparation
If you take the right classes during high school, you'll be one step ahead as a Plumbing Technology/Plumber major in college. Focus on math and science courses. Geometry and algebra will help you create blueprints and chemistry and physics will help you understand the inner workings of pipe systems. Drafting and mechanical drawing courses will also provide skills you'll use on the job.
Find Schools Offering Plumbing Technology/Plumber Degree Programs
Popular Careers in the Field of Plumbing Technology/Plumber
Plumbing Technology/Plumber majors can expect very good career prospects as the field is expected to grow faster than average over the next decade. Many jobs will arise from the eco-friendly movement toward water conservation, as systems will need retrofitting.
Plumbing Technology/Plumber careers are available in residential and commercial construction, utility system construction and plumbing repair shops. Careers begin with apprenticeships that earn 50 percent of normal wages. Typically, plumbers earn between $17 and $30 an hour.
Some plumbers go on to own their own repair shops. Bilingual Spanish and English speaking workers are becoming increasingly valuable and these skills are often required for careers as supervisors and contractors.
Find Schools Offering Plumbing Technology/Plumber Degree Programs
Most Popular
Plumbing Technology/Plumber Colleges
Advertisement