Nursing Colleges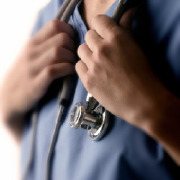 Nursing is the largest profession in the Health & Medical Services field. Registered nurses provide psychological, scientific and technological care for individuals with illnesses, injuries and disabilities from examining patients to creating plans for home care. For this career, you should possess compassion, patience and an interest in science, technology and the human body.
Nursing majors have a few education options: a two to three year program at a community or junior college to attain an associates degree in nursing (ADN); a four-year program at a college or university to achieve a bachelors degree in nursing (BSN); or after achieving a BSN, you can pursue a master's in nursing (MSN). You can pursue a nursing degree at an online school, too. All programs include both classroom learning and supervised clinical experience. Expect courses in behavioral science, anatomy, chemistry, nutrition, physiology and microbiology. After graduation, you'll need to pass a national licensing exam to practice.
Beyond nursing, you may be interested in related majors including Licensed Practical/Vocation Nurse Training, Nursing Administration, Rehabilitation & Therapy, Medical and Health Services Managers and Nursing Aides, Orderlies and Attendants.
Find Schools Offering Nursing Degree Programs
Choosing a Nursing School
You'll find college and university programs in nursing throughout the United States including four-year universities, two-year technical career schools, community colleges, online programs and career colleges. The type of school you choose, will also determine what types of nursing jobs you'll be qualified for later. If you're interested in a particular nursing specialty, make sure the prospective program can get you there. For example, you'll need a masters degree to become a nursing midwife and a bachelors degree for nursing administration. You should also find out where you'll complete clinical training, available honors programs and how many graduates pass the national licensing exam for nursing.
Find Nursing Schools
Nursing Degree Programs
The most popular degree for nursing is the associates degree in nursing. You can find two to three year ADN programs at community colleges and technical schools. Many nursing majors start with an ADN and then pursue a bachelor's of science degree in nursing later, often with the help of tuition benefits from their place of employment. Others go for a BSN right away by enrolling in a program at a four-year university. Alternately, there are three-year diploma programs at hospitals. You can also achieve a masters degree in nursing (MSN) by completing two years of graduate school.
To practice nursing you must pass a national licensing exam after graduation. Then, any degree qualifies you for an entry-level position. But with a BSN or MSN you qualify for higher paying jobs. With any nursing degree you can choose to specialize in particular areas of patient care such as diabetes management or geriatric care. A BSN often includes clinical experience beyond the hospital. And graduate programs open doors to teaching and research and advanced practice nursing specialties.
Find a Nursing Degree Program:
Online Nursing Degree Programs at Online Schools
You can find college nursing education through online schools and distance learning programs as well. While you'll still need to complete in-person clinical hours, you can pursue the rest of your coursework from the comfort of your home.
Online Nursing Degree Programs:
Online Nursing Schools:
High School Preparation
Nursing schools can be competitive. To give yourself an advantage for college admissions, sign up for as many math and science courses in high school as you can and do your best to excel. Even better? Complete advanced placement credits in physics, chemistry and biology.
Find Schools Offering Nursing Degree Programs
Popular Careers in the Field of Nursing
Over half of all nursing jobs are in a hospital setting. As a registered nurse you may focus on a specialty such as maternity, pediatrics, rehabilitation, orthopedics, radiology, burn care, emergency, surgery, behavioral health, mental health or developmental disabilities.
Many nurses also work in private practices, schools, corporations, clinics, assisted living homes, public health departments, ambulatory clinics, hospices, the military or even private residences. With a masters degree you can be a nurse midwife, nurse practitioner, nurse anesthetist or a clinical nurse specialist.
Beyond patient care, nurses have options in administration, case management, research and education or as medical and health services managers. You may also consider related careers such as Licensed Practical and Licensed Vocational Nurses or Nursing Aides, Orderlies and Attendants.
Registered nurses are always in demand and comprise 2.5 million jobs in the health care industry. The field is expected to continue to grow, especially in preventative care, home health care, nursing care facilities and freestanding emergency centers. Salary earnings are generally around $57,000 but can range from $47,000 to $83,000.
Find Schools Offering Nursing Degree Programs
Most Popular
Nursing Colleges
Advertisement