See All
Colleges >
Nursing Assistant / Aide and Patient Care Assistant / Aide Colleges
Nursing Assistant / Aide and Patient Care Assistant / Aide Colleges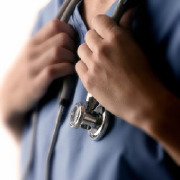 The Basics of Certified Nursing Assistants (CNA)
What is a CNA? A Certified Nursing Assistant (CNA) assists either a Licensed Practical Nurse (LPN) or Registered Nurse (RN) to care for patients. CNAs work in hospitals, personal homes, assisted living facilities and nursing homes. They are responsible for the basic care of patients, which includes tending to hygiene, gathering information about the patient's condition, keeping records, providing bedside care and occasionally serving as a liaison between the Licensed Practical Nurses and the Registered Nurses.
How to Become a CNA If you're interested in becoming a CNA, there are a number of different educational options available to you. The Red Cross offers CNA training, as do community colleges. Medical facilities and online schools also offer CNA training. There are some clinics that offer on-the-job training programs for less-experienced workers, but these positions are in great demand and may be hard to come by.
CNA training courses can take from four to six weeks. After you've finished training, you must take a state-wide CNA exam to receive your license.
How Are CNAs Different From Nurses? There are only a few courses which separate a Certified Nursing Assistant from a Registered Nurse, so many students who become CNAs ultimately work their way up to be nurses. This creates a significant turnover for people working as CNAs, which in turn creates many job opportunities. CNAs share duties with medical assistants and orderlies, but typically earn more money.
Daily Responsibilities of CNA Certified Nursing Assistants have a variety of responsibilities, including testing vital signs, taking temperatures, ordering blood tests, sanitizing patient rooms, giving suppositories, irrigations, enemas, applying clean dressings and collecting information about a patient's condition. They are also in charge of maintaining records and caring for disabled patients. CNAs report to either a Registered Nurse or Licensed Practical Nurse.
CNA Salaries and Benefits Certified Nursing Assistants earn an hourly wage as opposed to a salary. Therefore, the expected income fluctuates depending on how many hours a CNA works. According to the Bureau of Labor statistics, the median pay in 2012 for Certified Nursing Assistants was $11.73 per hour. This wage comes to about $25,000 a year.
There were about a million and a half jobs for Certified Nursing Assistants in 2012. The job outlook for CNAs is expected to grow 31 percent over the next ten years.
CNA Career Choices After you've completed your CNA course and have received your CNA license, your next step is applying to facilities that require Certified Nursing Assistants. Again, because there is such a high turnover rate in the industry, many jobs are available. Becoming a CNA, however, requires patience, compassion and a real desire to help people. The hours can be long and the work is sometimes taxing. While there are many jobs available, keeping a job will really depend on how much you want to help people.
Finding a School With a CNA Program There are a number of options available for students who want to pursue a CNA certificate. It's important to explore all options in order to find the best school for you.
Read More About Nursing Assistant / Aide and Patient Care Assistant / Aide Colleges
Top 10 Most Popular
Nursing Assistant / Aide and Patient Care Assistant / Aide Colleges
Advertisement