See All
Colleges >
Court Reporting Colleges
Court Reporting Colleges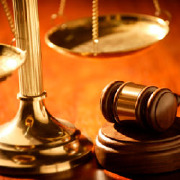 If you're fascinated by the legal system and would enjoy watching cases unfold in the courtroom daily, you may want to pursue the Court Reporting major. College, university and technical school students in this major learn the skills needed to become an official record-keeper for the court, recording everything that is said the second it is said. Program courses cover legal terminology, aural language skills, computer-aided transcription and shorthand.
Usually, Court Reporting majors enroll in 2- or 3-year associates degree programs at community colleges, technical schools, career colleges or universities. Certificate programs, which take a year or less to complete, are also popular at these types of schools. To build more advanced court reporting skills a small number of students seek a bachelors degree in Court Reporting.
You'll be expected to take down legalese-filled speeches, conversations and proceedings at lightening speed, so you should already be a quick and accurate typist. Good English and grammar skills can help you get the details right. And, most importantly, you'll need to be a good listener and able to pay attention even during dull trials.
If you're interesting working in the legal system, consider other programs including Advanced Legal Research/Studies (LL.M., M.C.L., M.L.I., M.S.L., J.S.D./S.J.D.); American/U.S. Law/Legal Studies/Jurisprudence (LL.M.,M.C.J., J.S.D./S.J.D.); Banking, Corporate, Finance, and Securities Law (LL.M., J.S.D), S.L.J); Canadian Law/Legal Studies/Jurisprudence (LL.M., M.C.J., J.S.D./S.J.D.).; Comparative Law (LL.M., M.C.L., J.S.D./S.J.D.); Energy, Environment, and Natural Resources Law (LL.M., M.S.,J.S.D./S.J.D.); Health Law (LL.M., M.J., J.S.D./S.J.D.); International Business, Trade, and Tax Law (LL.M., J.S.D./S.J.D.); International Law and Legal Studies (LL.M., J.S.D./S.J.D.); Law (LL.B., J.D.); Legal Assistant/Paralegal; Legal Administrative Assistant; Legal Professions and Studies; Legal Research and Advanced Professional Studies; Legal Studies; Legal Support Services; Pre-Law Studies; Programs for Foreign Lawyers (LL.M., M.C.L.); and Tax Law/Taxation (LL.M, J.S.D./S.J.D.).
Find Schools Offering Court Reporting Degree Programs
Choosing a Court Reporting School
You have about 100 Court Reporting schools to choose from. Located throughout the country, you can find technical schools, career colleges, community colleges, 4-year colleges and universities. Beyond looking for the basic Court Reporting major, you may want to choose a school that allows you to specialize in a specific type of court reporting such as the growing specialties of Communication Access Real-time Translation (CART) or broadcast captioning. You should also make sure that prospective schools have up-to-date transcription equipment.
Court Reporting Degree Programs
To get started in Court Reporting quickly, some students choose a certificate program lasting a year or less. These degree programs are offered at community colleges, career colleges, technical schools and universities. You'll graduate as a novice voice writer and will be able to learn other electronic court reporting and transcription skills on the job.
However, to truly become proficient in real-time voice writing and get up to industry typing speed standards of 225 words per minute or more, many students enroll in 2- to 3-year associates degree programs at technical schools, colleges or universities. These types of programs will give you an edge when looking for jobs. You'll also likely have the option of gaining specific skills in areas such as CART, broadcast captioners or real-time voice writing.
A few students choose to enroll in bachelors degree programs for Court Reporting. These 4-year programs offered at colleges and universities give students a chance to gain even more expertise in different applications and techniques.
Court Reporting Degree Programs:
Online Court Reporting Degree Programs at Online Schools
A few online schools offer Court Reporting online degree programs. You can earn an online degree at the associates degree, bachelors degree or certificate level through an online school. Technical schools, colleges and universities have Court Reporting programs designed so you can build up your typing speed and learn the necessary legal terminology on your own time.
Online Court Reporting Degree Programs:
Online Court Reporting Schools:
High School Preparation
During high school, prospective Court Reporting majors should start working on their typing speed and accuracy. Sign up for typing or other computer courses. English classes are important, too, because you'll need impeccable spelling and grammar skills. You should also look for opportunities to see the legal system in action by visiting courtrooms or by getting in touch with legal professionals for job shadowing opportunities.
Find Schools Offering Court Reporting Degree Programs
Popular Careers in the Field of Court Reporting
Court Reporting majors have a promising career outlook as an 18 percent growth in employment is expected over the next decade. On average, court reporters earn annual salaries between $35,000 and $67,000.
Court Reporters are especially in demand for real-time broadcast captioning and translating for the deaf. In fact, many Court Reporting majors with CART skills will find work outside of the courts providing real-time translation for the deaf on television program or at colleges and universities.
Another way to increase your chances of getting the top jobs, seek a national certification after college or university. In some states you'll need to be a Certified Court Reporter or a Certified Verbatim Reporter for example and you can also add certifications such as Certified Broadcast Captioner or Register Diplomate Reporter. You'll also find a greater number of jobs in large cities or rural areas.
During your career as a court reporter, you'll be in close contact with Judges, Magistrate Judges, and Magistrates, Legal Secretaries, Paralegals and Legal Assistants—all related careers that you may wish to explore.
Find Schools Offering Court Reporting Degree Programs
Top 10 Most Popular
Court Reporting Colleges
Quick Search: Find the College that's Right for You!
Advertisement