See All
Colleges >
Healing Arts Colleges
Healing Arts Colleges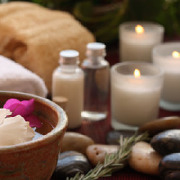 Healing Arts majors study a variety of natural and alternative medicine therapies. Some students prepare for careers as naturopathic doctors, diagnosing and treating patients with non-toxic and self-healing methods while others gain experience needed to perform one type of therapy in spas and holistic health care centers.
Healing Arts is offered at technical schools, career colleges, community colleges, online schools, 4-year colleges and universities. Students in this major can earn a certificate, associates degree, bachelors degree or masters degree.
To succeed in a Healing Arts program you should have great interpersonal skills since you'll be dealing with patients who'll need to feel at ease in your hands. Some programs require students to be good a science while others need students with good hands. No matter what Healing Arts major you choose, you should be open to the possibilities of all natural health therapies.
As a Healing Arts major you may study one or several of the following areas: Acupuncture; Alternative and Complementary Medical Support Services; Alternative Medicine; Aromatherapy; Asian Bodywork Therapy; Ayurvedic Medicine/Ayurveda; Colonic Hydrotherapy; Direct Entry Midwifery (LM; CPM); Energy and Biologically Based Therapies; Feng Shui; Heatheology; Homeopathic Medicine; Hypnotherpay/Hypnotherapist; Herbalism/Herbalist; Homeopathic Medicine; Hypnotherapy/Hypnotherapist; Iridology; Massage Therapy; Movement and Mind-Body Therapies and Education; Movement Therapy and Movement Education; Naturopathic Medicine (ND); Polarity Therapy; Reflexology; Reiki; Somatic Bodywork; Somatic Bodywork and Related Therapeutic Services; Spa Therapy; Traditional Chinese/Asian Medicine and Chinese Herbology and Yoga Teacher Training/Yoga Therapy.
Find Schools Offering Healing Arts Degree Programs
Choosing a Healing Arts School
Over 800 technical schools, career colleges, community colleges, online schools, 4-year colleges and universities offer Healing Arts programs. Aside from choosing a program that focuses on the particular therapies you want to learn, look for a school with plenty of opportunities for hands-on experience whether through clinical internships or on-campus programs. If you'll need to take a licensing exam to work in the field, find out how many recent grads pass. Career placement services can also be important as you look for your first job.
Find Healing Arts Schools
Healing Arts Degree Programs
Healing Arts certificate and associate career training degrees take from a few months to a few years to complete. These programs prepare students to perform spa therapies, massage therapy, reflexology, Reiki, colonic hydrotherapy and yoga therapy. Time is generally split between classroom instruction and hands-on training.
College and university bachelors degrees are popular for Healing Arts majors interested in more science-based therapies, which usually lead to higher-paying careers. Four-year degrees are common for homeopathic medicine, herbalism/herbalist, aromatherapy, acupuncture and alternative medicine. Some masters degree programs are also offered to students who want to practice medicine a naturopathic doctor, or to those who want a more advanced education.
Healing Arts Degree Programs:
Online Healing Arts Degree Programs at Online Schools
Healing Arts online degree programs are offered through technical schools, career colleges, community colleges, online schools, 4-year colleges and universities. An online school education allows you to study on a flexible schedule discussing coursework and turning in assignments over the Internet. Some Healing Arts majors such as spa therapies and yoga therapy are impossible to learn in an online degree program.
Online Healing Arts Degree Programs:
Online Healing Arts Schools:
Medical Careers Institute - Online School
High School Preparation
If you're interested in studying a Healing Arts major in college, fill your schedule with science and communication classes. Chemistry, biology, anatomy and physics will provide an important background for your college education. Interpersonal skills are key for provider-patient relationships so take speech, communications and drama now. Experiment with the healing arts by getting a massage, rearranging your bedroom using Feng Shui, taking a yoga class and meditating.
Find Schools Offering Healing Arts Degree Programs
Popular Careers in the Field of Healing Arts
Alternative medicine and holistic therapies are growing in popularity, which means the number of career opportunities is increasing, too. Health and wellness is also becoming a bigger priority in the U.S. Healing Arts majors find work in spas, health clubs, salons, fitness centers, naturopathic doctor's offices, holistic health centers and alternative medicine clinics. Many are also self-employed, working with clients on a freelance basis.
Healing Arts majors can choose from a number of different career paths. Acupuncturists earn between $24,000 and $100,000 a year, herbalists make between $25,000 and $45,000 annually, naturopathic doctors earn around $80,000 a year, homeopathic counselors earn around $43,000 a year and spiritual health counselors earn about $50,000 a year. Massage therapists, spa therapists and reflexologists earn around $11 to $24 an hour.
Find Schools Offering Healing Arts Degree Programs
Top 10 Most Popular
Healing Arts Colleges
Quick Search: Find the College that's Right for You!
Advertisement