Spa Therapy Colleges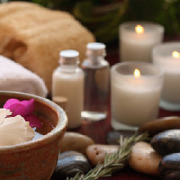 Spa Therapy students learn how to pamper clients from head to toe, performing treatments that are only found in spa settings. This program often includes training in hot stone therapy, detoxifying body wraps, hydrotherapy, therapeutic baths, seaweed wraps, aromatherapy and body scrubs.
Most Spa Therapy students enroll in certificate programs lasting 6 months to 2 years. Several 2-year associate career training degrees are available in the major, too. Programs are offered at technical schools, career colleges, community colleges, 4-year colleges and universities.
Because this career thrives on making other people feel comfortable, Spa Therapy majors should be caring, compassionate and warm. Interpersonal communication skills can help, too. If you're interested in reading about the latest trends and treatments in spa therapy, you'll be one step ahead.
Beyond Spa Therapy you may want to check out other related Healing Arts college majors: Acupuncture; Alternative and Complementary Medical Support Services; Alternative Medicine; Aromatherapy; Asian Bodywork Therapy; Ayurvedic Medicine/Ayurveda; Colonic Hydrotherapy; Direct Entry Midwifery (LM; CPM); Energy and Biologically Based Therapies; Feng Shui; Heatheology; Herbalism/Herbalist; Homeopathic Medicine; Hypnotherpay/Hypnotherapist; Herbalism/Herbalist; Homeopathic Medicine; Hypnotherapy/Hypnotherapist; Iridology; Massage Therapy; Movement and Mind-Body Therapies and Education; Movement Therapy and Movement Education; Naturopathic Medicine (ND); Polarity Therapy; Reflexology; Reiki; Somatic Bodywork; Somatic Bodywork and Related Therapeutic Services; Traditional Chinese/Asian Medicine and Chinese Herbology and Yoga Teacher Training/Yoga Therapy.
Find Schools Offering Spa Therapy Degree Programs
Choosing a Spa Therapy School
Whether you want to attend a technical school, career college, community college, 4-year college or university, you'll find a reputable Spa Therapy program. Because the major covers so many different types of treatments, when you choose a school you should make sure the areas you're interested in most are offered. For more specialized or trend-driven training you may want to attend a school dedicated to health services, massage therapy or the healing arts. You should also find out where you'll get your hands-on training. Often, spa therapists take licensing exams before they begin working, so make sure prospective programs will prepare you to pass.
Find Spa Therapy Schools
Spa Therapy Degree Programs
Spa Therapy degrees are offered at the certificate and associates degree level at technical schools, career colleges, community colleges, 4-year colleges and universities. Programs take anywhere from 6 months to 2 years to complete. Some programs will provide training in a variety of spa therapy treatments, which can open doors to more advance careers, while others focus on advanced techniques in one area such as massage or body wraps. You can expect to learn about aromatherapy massages, hot stone therapy, slimming body wraps, mud baths, organic spa treatments, hot and cold water therapy, exfoliating treatments, lymphatic drainage massage and spray tanning.
Spa Therapy Degree Programs:
High School Preparation
If you want to major in Spa Therapy in college, work hard in high school biology courses. Believe it or not, understanding anatomy, biology and health can all help you perform massages and other spa treatments. You'll likely need to get certified in first aid and CPR, so consider checking that off your list now. Communication skills are important for this career so take speech and drama classes to improve yours. If you want to work in resort or vacation spots, a foreign language can be useful.
Find Schools Offering Spa Therapy Degree Programs
Popular Careers in the Field of Spa Therapy
Spa Therapy majors find work in luxury day spas, hotel spas and spa retreats. Some work exclusively as massage therapists performing different types of the modality from hot stone to aromatherapy massages. Others perform body treatments such as wraps, scrubs and spray tanning. The most versatile spa therapists can complete a variety of treatments, which can be appealing to employers. While not required, licenses and certifications also help entice employers.
Career opportunities for spa therapy majors are expected to grow over the next decade as more people turn to holistic and alternative medicine. The best paying and highest number of spa therapy careers can be found in large metropolitan areas and vacations spots. Luxury spas also pay higher salaries, but the competition for those jobs is fierce. On average massage therapists and spa therapists earn between $11 and $24 an hour.
Find Schools Offering Spa Therapy Degree Programs
Top 10 Most Popular
Spa Therapy Colleges
Advertisement