See All
Colleges >
Bioinformatics Colleges
Bioinformatics Colleges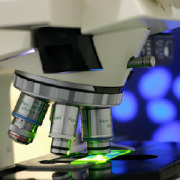 This program focuses on the forefront of computer engineering as it seeks to apply computer-based technologies to biological, biomedical, and biotechnology research. Students of Bioinformatics must study algorithms, network architecture, principles of software design, human interface design, usability studies, search strategies, database management and data mining, digital image processing, computer graphics and animation, CAD, computer programming, and applications to experimental design and analysis and to specific quantitative, modeling, and analytical studies in the various biological specializations.
Top 10 Most Popular
Bioinformatics Colleges
Quick Search: Find the College that's Right for You!
Advertisement