See All
Colleges >
Plant Molecular Biology Colleges
Plant Molecular Biology Colleges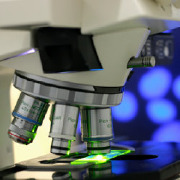 A program that focuses on the application of molecular biology, biochemistry, and biophysics to the study of biomolecular structures, functions, and processes specific to plants and plant substances. Includes instruction in the biochemistry of plant cells, nuclear-cytoplasmic interactions, molecular cytostructures, photosynthesis, plant molecular genetics, and the molecular biology of plant diseases.
Plant Molecular Biology Colleges
1
Gainesville, Florida
College degrees offered: Associates Degree, Bachelors Degree, Masters Degree
Quick Search: Find the College that's Right for You!
Advertisement