Why suffer trust falls and middle school-style mixers if you don't have to?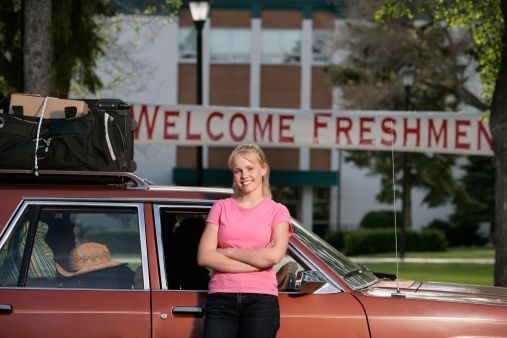 Freshman orientations can be more than a little scary – you're in a completely new place with completely new people, and how many more times can you possibly "tell the group a little bit about yourself"? Not every school makes orientation painful, though; in fact, some offer programs that are actually pretty amazing. These five schools have totally unique ways of making you feel at home.
1. New York University
NYU's artsy reputation makes it easy to believe that the school's welcome week mostly revolves around shows. In the past, they've presented new students with an entirely original musical about life in the city; this year, they're boasting an a capella performance, a night of professional comedy, a showing of "The Rocky Horror Picture Show," and a game show just to round things out. If you're not so into showbiz, might we suggest attending, um, anywhere else?
Not every school makes orientation painful, though; in fact, some offer programs that are actually pretty amazing.
2. University of Georgia
At the University of Georgia, orientation begins far before fall semester. Students who attend Georgia's Freshman College Summer Experience move onto campus a month early and rack in course credit by taking classes like Art Appreciation, American History, and Introductory Sociology. Sounds like something that overachiever in your Calculus class would be all over, right?
3. Indiana University
The highlight of Indiana University's welcome week is CultureFest where students get to sample foods from around the world, listen to international music, get henna tattoos, dance the salsa and then move on to an after-party hosted by the school's art museum. We may not be students, but we'd pay an alarming amount of money to attend this event.
4. Ohio State University
At Ohio State, welcome week's all about giving back. Their Community Commitment program gives students the ability to help out at one of over 100 community service programs, and the annual Miracle Miles 5k gives runners the chance to raise money for children with cancer. Stop making everyone else look bad, Ohio. You're too good!
5. Columbia University
This school has three tracks for pre-orientation summer fun: The Columbia Outdoor Orientation Program (COOP) allows students to camp, bike, hike, and canoe, the Columbia Urban Experience (CUE) lets students participate in community service and experience New York City's cafes, museums, and shows, and the International Student Orientation Program (ISOP) focuses solely on getting international students acclimated to their new surroundings. We're not sure you covered enough bases there, Columbia University.
Look at it this way: even if your first year ends up being tough, at least you'll have great stories to tell from welcome week, right?