If you attend one of these schools, you might have to suffer some study sessions on the sand.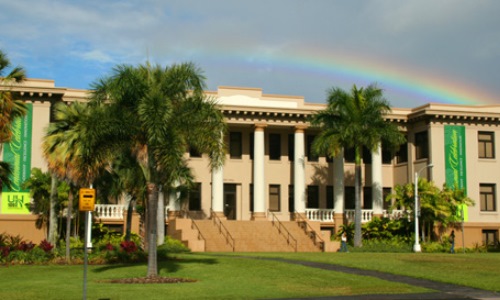 Cities are great and all, but why spend a stressful four years in a bustling metropolis when you can just hang out on the beach instead? These eight schools will allow you to do just that (well, plus some studying…just for show.) Don't forget to pack your skimboard.
Pepperdine University
Beach Rating: 3 Tan Lines
The Details: The dorms at Pepperdine University, Malibu overlook beautiful beaches that are often populated with celebrities. Ugh, will Ryan Gosling please stop ruining our perfect view?
Best Beach Pick: Zuma Beach is known for its surprising cleanliness and its historic role in TV and film history – it was the backdrop for classics like Baywatch and I Dream of Jeanie.
Is it appropriate to cut down on clothing costs by exclusively wearing swimwear to class? We'd love to look into that…
Endicott College
Beach Rating: 2 Tan Lines
The Details: Located just outside of Boston in Beverly, MA, Endicott College not only offers charming New England surroundings but also three private beaches available exclusively to students. This kind of elite access might trick you into believing your college tuition was a steal… Best Beach Pick: Whichever one of the private Endicott beaches suits your fancy (we say as we seethe with jealousy.)
University of San Diego
Beach Rating: 3 Tan Lines
The Details:San Diego, CA is known for its nauseatingly perfect weather and stupidly beautiful beaches. We imagine University of San Diego students take lazy naps on the sand between leisurely strolls to class. We don't sound bitter at all, do we?
The Best Beach: Coronado Beach was named one of the best beaches in America by Travel Channel.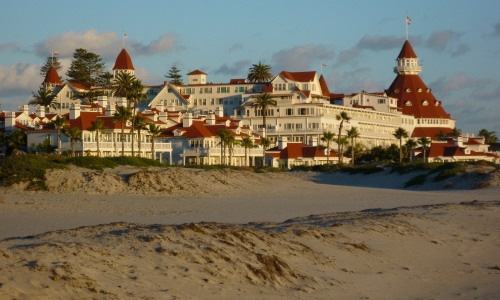 University of North Carolina Wilmington
'Beach Rating: 2 Tan Lines
The Details: Located in historic Wilmington, this school not only neighbors several beautiful beaches but also some island communities. You may be a mere college student, but at University of North Carolina, Wilmington, you'll be living as exotically as royalty (or so we like to think.)
Best Beach Pick: Wrightsville Beach, located on Shell Island, is a solid choice for surfing, boating, kayaking, or just, ya know, bein' you.
University of Hawaii at Manoa
Beach Rating: 3 Tan Lines
The Details: We think you'll agree that going to college in Hawaii is a pretty tempting possibility. University of Hawaii, Manoa is set in treacherous territory in the hills of Honolulu, so remember to pack a jacket for those harsh winters.
Best Beach Pick: The famous white sand beach of Waikiki is only minutes away.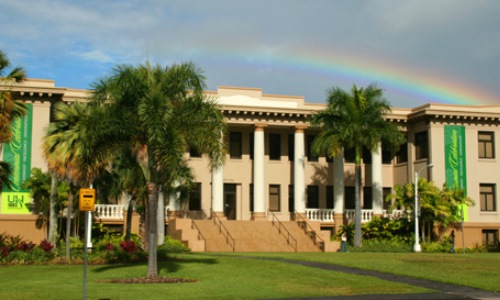 University of California at Santa Barbara
Beach Rating: 3 Tan Lines
The Details: University of California, Santa Barbara's 1,000 acre campus is bordered by the Pacific Ocean on three sides, so…case closed.
Best Beach Pick: In addition to the other awesome beaches nearby, UCSB has its very own surfing beach called Campus Point. Anyone up for riding their longboard to class?
Texas A&M Corpus Christi
Beach Rating: 1 Tan Line
The Details: Texas A & M University, Corpus Christi calls itself "The Island University," and not without good reason – its location in Corpus Christi is surrounded by natural wetlands. Might we suggest a major in Marine Biology?
Best Beach Pick: East Beach is the largest beach in the state, which means it's pretty gigantic – everything's bigger in Texas, after all.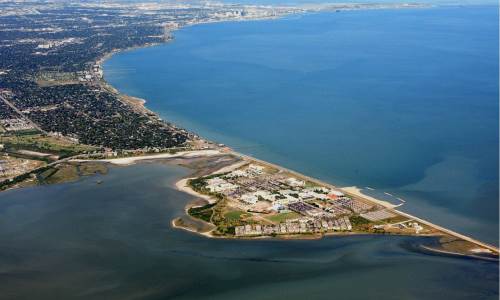 Palm Beach Atlantic University
Beach Rating: 2 Tan Lines
The Details: Palm Beach Atlantic University is located right on the water and neighbors many of Palm Beach's best sandy spots. All things considering, we deem this a high-class place to go to class.
Best Beach Pick: John D. MacArthur Beach State Park is a great spot for snorkeling, scuba diving, and whatever else comes along with refusing to have a lazy day at the beach.
Now, quick question: is it appropriate to cut down on clothing costs by exclusively wearing swimwear to class? We'd love to look into that…