How to get the most out of your GRE test studying.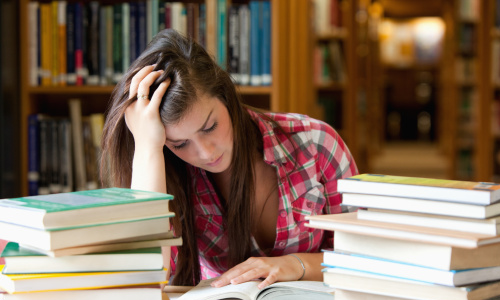 Photo: Thinkstock
Everyone gets nervous before taking the GRE test. While there is much information on tips for taking the GRE test, you may have trouble finding resources on how to study for the test. There are many GRE prep services, books and other materials that can help you study for your test, but there are a few extra tips to help you get started in your studying.
Reading the directions before taking the test will allow you to devote the full amount of time to completing each section.
Here are the top 10 tips on studying for the GRE we think will help in your preparation:
Start early. You don't want to start a year in advance, but three months should be a sufficient amount of time to take for studying. Create a realistic schedule that you know you can stick to. Even one hour per day would help you immensely in your preparation.
Familiarize yourself with the format. The test is divided into three sections, including verbal, quantitative, analytical.
Take a practice test. Once registered for your GRE, you are provided a practice test from ETS. You can also find free practice tests online, or through a GRE test prep course.
Evaluate your practice tests. After you have completed each practice test, review the questions you answered incorrectly, figure out what you did wrong and how you can improve on future tests. Make sure you understand why you got the problem wrong before moving onto the next one.
Focus on your weak areas. If you have strong mathematical skills, but don't do so well on English tests, you should focus on improving your verbal and analytical skills. Of course, you should review each section, but there is no reason to spend a lot of time on studying skills you are already comfortable with.
Use flashcards. This is especially helpful if you need help improving your vocabulary. It may seem old fashioned to those used to studying in the digital age, but it is a tried and true method.
Understand the question formats. There are three subsections in the verbal section including sentence completion, analogies, antonyms and reading comprehension. The math has two sections including standard multiple choice and quantitative comparisons.
Practice writing essays. You will have to write two essays in the analytical writing section: issue task and argument task. Each test taker has 85 minutes to complete both essays, so you should practice writing within this time frame.
Save time later by reviewing the directions now. Each section is timed, so reading the directions before taking the test will allow you to devote the full amount of time to completing each section.
Review basic math skills. The math subjects you took in high school, such as geometry, algebra and trigonometry will be covered in the standard multiple choice section of the qualitative section. If you didn't major in a field in math or science, then chances are you probably need to brush up on these skills.