Get advice on how to deal with the benefits and challenges of suite living.
The ratio of men to women in college has been slowly and steadily shifting for decades. More women have enrolled in college since 1979 and the ratio seems to have only recently stabilized at around 57%. That means that men make up only 43% of the national student population, and they also earn only 43% of bachelor's degrees.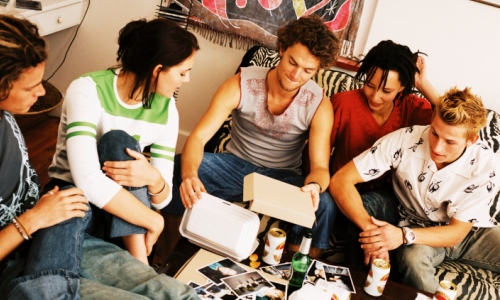 It's easier for students to meet new people in a traditional dorm because there are so many students all living together.
What is a dorm suite?
The dorm suite is a little different than traditional dorm housing. Instead of sharing a dorm room, students have their own private room or share it with only one roommate. These rooms are connected by a common room or bathroom or both.
The end result is almost like a shared apartment on campus. Instead of a traditional dormitory with public bathrooms and a shared study lounge, a suite only usually houses four to eight students and there might be only a few suites per floor.
Find out how to survive life in a dorm suite with the following tips.
1. Socialize
Most colleges across the country, from UCLA to Texas Tech University to Boston University, have a rule that all students must live on campus during their freshman year. Still, even on-campus dorm suites have the reputation of being very isolated.
It's easier for students to meet new people in a traditional dorm because there are so many students all living together. This can be more difficult to do in a suite where there are fewer students living together in a building or on a floor. Be sure to go out and get to know other students.
2. Have Rules for Common Areas
It's important to set rules in the beginning of your dorm life together. Decide upon a cleaning schedule for the bathroom, when it's okay to bring guests in, what food can be brought into common areas, and what sort of noise restrictions are required for studying.
It's tempting to believe that everyone will be great and strict rules won't be needed, but problems happen, even if they're only minor ones. If rules are in place from the beginning, it makes resolving issues easier.
3. Have Meetings With your Suitemates
Communication is key in any roommate relationship. Find a time when you can all get together to talk. Check in with each other, make sure you're all sticking to your rules or just chat to make sure everyone is doing well.
4. Add Life to Your Common Area
If your college allows it, consider pooling money between your suitemates and buy some flowers, small potted plants or a nice, big one to add to your common area.
Plants do take extra work to water and care for, but according to a study at Texas A&M, plants will liven up the space and make it feel nicer. Plus, according to a variety of studies, living with plants is shown to have health benefits.
5. Throw a "Suite-Warming" Party
Use all that extra space and have a get-together with friends. It's also a great way to stay connected with everyone in the sometimes-isolating dorm suite, and your friends will want to get out of their cramped dorm rooms. Be sure to follow all college rules though, and know the limit for people allowed in your suite.
6. Set Reasonable Expectations
You are still living with human beings. You aren't going to have total freedom. You should always be friendly, but you might not all be best friends. You might not get to choose your suitemates, especially your freshman year, so keep an open mind and stay accepting when it comes to who you live with.