Find out how the ratio of men to women in college can affect you.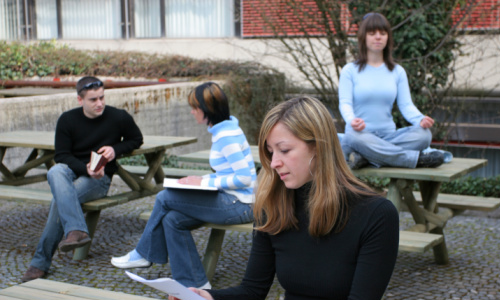 The ratio of men to women in college has been slowly and steadily shifting for decades. More women have enrolled in college since 1979 and the ratio seems to have only recently stabilized at around 57%. That means that men make up only 43% of the national student population, and they also earn only 43% of bachelor's degrees.
Effects of the college gender gap
One of the very publicized and well-researched effects of the gender gap is college dating. A 2010 study on gender ratios and their effects on college dating habits showed that women in colleges with few men tend to be more sexually active, go on fewer traditional dates and have fewer college boyfriends.
College dating isn't the only thing affected by the ratio of men to women (or women to men) in college. If gender gaps get too high, men may feel discouraged from applying at certain schools, and some colleges may bias the admission process more favorably to men. In fact, the US Commission on Civil Rights spent months investigating colleges like Johns Hopkins, Loyola University Maryland and York College of Pennsylvania on charges of exactly this.
Should the gender gap be a factor in my college choice?
Ultimately, students choose their college for a variety of reasons. Cost, geographic location and quality of education are very important issues to weigh when choosing your college. Still, the gender gap does have a noticeable effect on college dating and therefore general student interaction as a whole. If this is something that's important to you, be sure to do your research.
The type of college also affects the ratio of men to women. As you can see in the lists below, military academies and engineering and technical schools tend to skew male, while small, liberal arts colleges and design colleges tend to have more female students. Keep in mind that single-sex colleges like Wellesley College is not included in the following lists.
10 colleges with the highest ratio of men to women
The Citadel: 91.3%
United States Military Academy: 84.4%
New York University Tandon School of Engineering: 80.5%
United States Air Force Academy: 79.0%
Colorado School of Mines: 75.0%
Berklee College of Music: 70.5%
California Institute of Technology: 60.5%
Lehigh University: 58.5%
Harvey Mudd College: 58.2%
Carnegie Mellon University: 57.6%
10 colleges with the highest ratio of women to men
Wheelock College: 89.5%
Fashion Institute of Technology: 84.6%
Our Lady of the Lake College: 83.9%
Lourdes College: 78.5%
Our Lady of the Lake University: 73.6%
Marymount University: 71.6%
Sarah Lawrence College: 70.0%
Hood College: 66.7%
Randolph College: 65.6%
The Boston Conservatory: 57.7%
Sources: National Center for Education Statistics, US News and World Report, American Council on Education