This British import is an increasingly popular sport at colleges across the United States.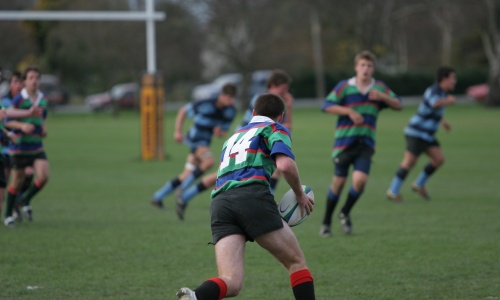 In the past, Americans thought about rugby the same way they did about cricket, as an obscure British sport that would never reach popularity in the US.
Well, times have changed, and nowadays, rugby is one of the more widely played sports in college.
Are you a serious rugby player or a curious athlete wanting to try a new sport? Whatever your level of skill or experience, there's a place for you to play rugby in college.
Whatever your level of skill or experience, there's a place for you to play rugby in college.
Leagues and Divisions
As of 2011, there are four divisions in college rugby: the College Premier Division (CPD), and Divisions I, II and III. Premier, I and II are governed by USA Rugby, while III is governed by the National Small College Rugby Association (NSCRA). Scheduling for league play is managed locally.
School size and budget are factors in determining the divisions, but college rugby also uses relegation and promotion. Basically, this means that at the end of each season, the best teams in each division have the option to move up to the next division, while the worst teams have the option to move down.
The option to be promoted isn't always a no-brainer. If a school is consistently dominant in its division or has a small budget, it might choose to refuse promotion. Likewise, if a school performs poorly in a season, it may decide to remain in its division and try to improve.
Top Men's Rugby Schools
The US Collegiate National Rugby Championships began in 1980, and since then, the perennial men's rugby powerhouse is the University of California, Berkeley. The Golden Bears have appeared in 26 national championships and have lost only one.
Air Force, Army, Navy and Penn State also have consistently strong teams. BYU has competed in the past six DI/CPD championships, and is the only team to beat Cal in the championship. BYU's in-state rival, Utah, also ranked in the top 10 at the end of the 2010-11 season, according to ''Rugby'' magazine.
Because of the recent addition of the College Premier Division, the best new teams in Division I and II have yet to reveal themselves. Some of the rising powers in DI include Florida, Florida State, Stanford and Bowling Green. In this year's championship, the first of the new Division I, Davenport University won a convincing victory over UC Santa Barbara. Division II is less consistent in terms of dominant teams, though
Middlebury College has recently emerged as a power.
Getting Involved: Intramural and Club Rugby
So far, we've mainly discussed varsity college rugby. Realistically, though, varsity teams are reserved for the most talented, experienced players. What are the playing opportunities for a beginning rugby player?
The answer is club and intramural teams. If a college has a varsity men's rugby team, it will likely also have club and intramural opportunities. Even if you don't make the varsity team, you'll still have the chance to play. Some students actually prefer the low-pressure atmosphere of club and intramural sports instead of high-profile varsity sports.
Not sure if rugby is right for you? Here are a few things to consider:
Are you in good physical shape?
Are you a driven, competitive person?
Do you enjoy a challenge?
Do you work well with a team?
If the answer to these questions is yes, you might want to try out for your college's rugby team.